The Clergy society has been called upon to intensify its role in church building to ensure spiritual welfare of its members.
According to Mr. David Ayi Hammond, it is time for the body of Christ to be in tune with God as it execute its mandate of winning souls for the kingdom of God.
To him, this is of importance for the cohesion and development of the church and the members.
Mr. David Ayi  Hammond made this call at the 2nd Stephens-Odunton-Armar Memorial Lecture in Accra
The lecture organised by the Methodist Church of Ghana, Accra Wesley Cathedral to celebrate heroes of the Methodist Church was under the theme: "60 years of Dedication:The Role of the Clergy and Lity in Disciple-Making in our digital age".
The Man of God Stressed that, "The Clergy has a critical role to play in shaping the minds of people to redirect their efforts in transforming and building a strong spiritual church that will seek the spiritual welfare of members.
Notwithstanding, the church, he acknowledged also have a duty to ensure members are physically sound to handle challenges in their daily lives as they seek for their spiritual welfare and being.
Mr. Hammond recounted the immense contributions made by the Church in Ghana's developmental process adding "As you celebrate your 60 years, we cherish the contributions you have made as a church to our national development."
Therefore tasked members of the church to find ways of absorbing gains in the church in order to create wealth as well urged the church to support with resources to enable members to understand doctrines of the church especially young generations.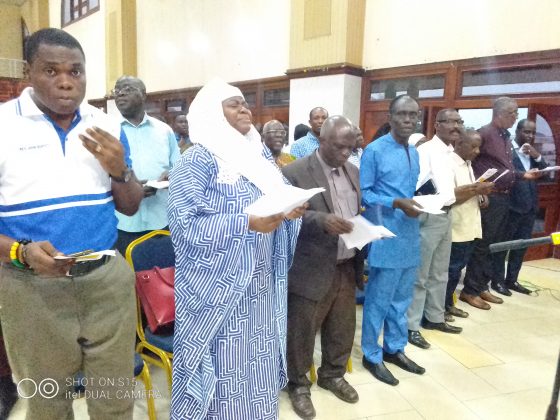 He also used the ocassion to advise the young generation of the church to hold on to the faith of their fathers, cherish and safeguard it for the growth of God's work and Ministry.
Source: www.thenewindependentonline.com/ Ishmael Barfi/ senghana@gmail.com