The Speaker of Parliament Rt. Hon. Prof. Michael Aaron Ocquaye has led a delegation to mourn with the Deputy Minority Leader, James Klutse Avedzi in Dzodze in the Volta Region on the lost of his wife.
The demise of Mad. Fortune Abla Fugar – Avedzi brought together the entire Leadership of the House including the First and Second Deputy Speakers, officials from Parliament and the Parliamentary Press Corps to Dzodze in the Ketu constituency.
Speaking on behalf of the bereaved family, the Member of Parliament for Keta, Hon. Richard Quashiga narrated that, the incident occurred on the 30th January, 2020 when the Deputy Minority Leader had a call from his wife.
"In the voice she complained of her laptop, but Mad. Fortune later called again and complained to her husband of a sharp pain in her chest", he said.
Adding, "Then not long, there was another call from a  government facility at Dzodze which confirmed about  the presence of Mad. Fugar but couldn't survived it."
 
According to Mr. Quashiga, the call came at 11: 42am and she passed on 12:15pm at the Nyaku Mensah clinic; the lifeless body is deposited at the Abor Mourge.
The funeral rites and burial according to the deceased families is slated for 6th and 7th March 2020.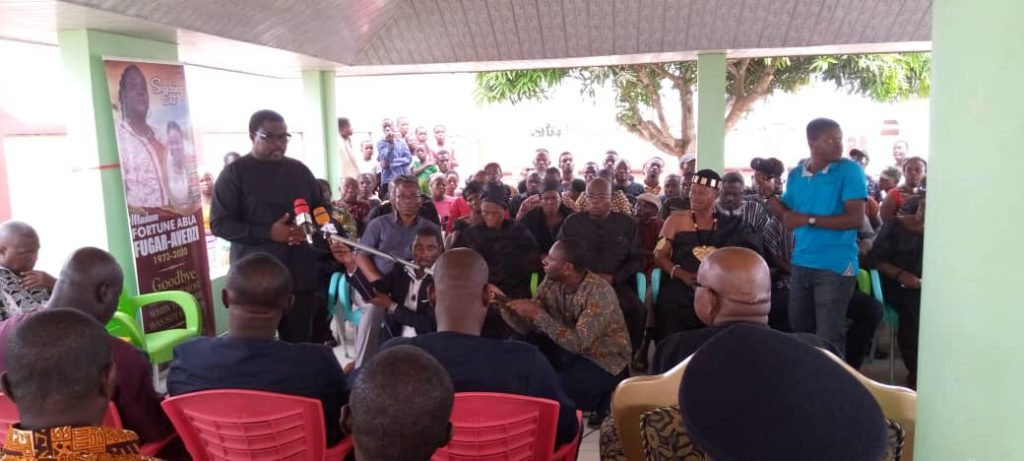 Minority Leader in his remarks described the occurrence as a very difficult one as he sympathized and consoled the bereaved families.
The Majority Leader who doubles as the Minister for Parliamentary Affairs acknowledged the impact of the devastation noting, it can't be measured.
Therefore expressed his deepest condolences to the bereaved families.
Meanwhile, the Speaker Prof. Oquaye advised Mr. Avedzi to be more attentive to the upbringing of the children in these difficult moments.
He again congratulated the chiefs and people of Ketu North for producing such a knowledgeable leader of the land.
The office of Parliament donated a cash amount ten thousand Ghana cedis and bottles of water to the families.
Hon. Quashiga on behalf of the family expressed gratitude for the donation ( a cash on 10,000 ghana cedis and the bottels of water )and pray such should not happened again.
Speaker then signed the book of condolence.
Source: www.thenewindependentonline.com/ Delali Gavor