The Coronavirus has infected millions of people across the world and thousands of people have already died through the pandemic.
Record shows that more people are likely to be infected with by it.
In order to fight against the spread of the Nsuaem youth based in Accra have donated Personal Protection Equipment (PPE) to the Nsuaem Government Health Centre in the Western Region.
The items donated include Gloves, Face Masks, Tissue Papers, Liquid Soap, Veronica Buckets and Hand Sanitizers.
Receiving the items, the Physician Assistant at the Nsuaem Health Centre, Richard Raymond Akpoto, said the Municipality has not recorded any case yet, however, the items will help them to screen people in fighting against the virus.

He advised the public to adhere to precautionary measures from Government and the Ghana Health Service (GHS). Akpoto emphasised that Tarkwa Municipal Health Directorate has also supported them with PPE.
So far Ghana's Covid-19 cases have increase.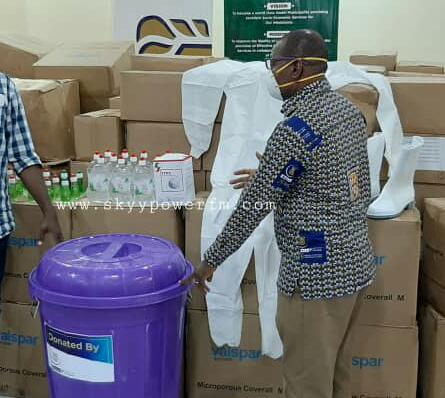 In appreciation, the Assemblyman for the area, David Ato Kum Gyan and the health workers thanked the group for the gesture.
The heath workers used the opportunity to call for more support
Source: www.thenewindependentonline.com/ Kweku Bolton
kwekubolton2@gmail.com