Story by: Sheila Setori Mensa
The Deutsche Gesellschaft für Internationale Zusammenarbeit (GIZ) has donated some equipments to the Ghana Police Service to aid them to discharge their lawful duties especially Community Policing.
The donation done on 15th December,2020 by the Deutsche Gesellschaft für Internationale Zusammenarbeit (GIZ) at the headquarters of the Ghana Police Service was on behalf of the German Embassy as part of its contributions towards the strengthening of Community Policing in Ghana.
The donated items included Fifteen motorbikes, fifty seven each of laptop computers, projectors with screens and a Public Address system.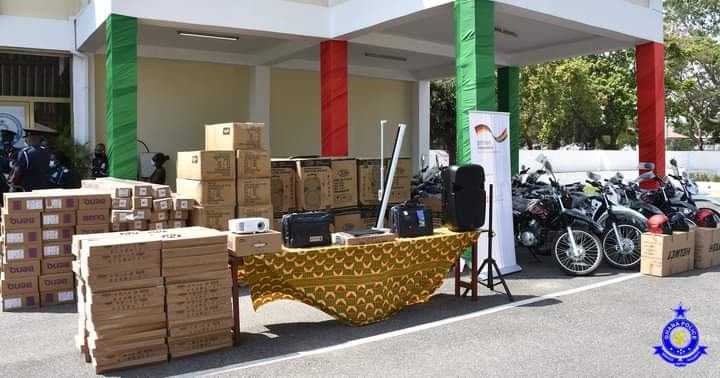 Speaking on behalf of the German Ambassador, Moritz Fischer acknowledged that, there can be no development without security thus the German government's support to strengthen policing in Ghana.
"The items donated reflect our own way of responding to Community Policing needs to improve the relationship between Police and the citizens", he added.
Receiving the items on behalf of the Ghana Police Administration, the Director-General Legal and Prosecutions, COP Mr. Nathan Kofi Boakye who is also the chairman of GIZ-GPS Policing Programme Steering Committee, thanked the German Embassy for supporting Community Policing.
He admitted that, the items will assist the Community Policing Unit to reach out to the public in combatting crimes.
Therefore he assured them of good use of the items donated to enhance Community Policing.
Source: www.thenewindependentonline.com