Report by: Ben LARYEA
The Executive Secretary of the Civil and Local Government Staff Association Ghana (CLOGSAG), Mr. Isaac Bampoe Addo has said political interference in the service affects institutional memory and decision making process in the service and local government, administrative procedures such as recruitments, promotions, postings, transfers, conversion and upgrading as well as disciplinary procedures and sanctions.
"CLOGSAG is therefore drawing attention of all staff to the limitation within the service and urging them to engage in administrative framework and guidelines that will insulate the service from undue political interference", he charged.
Mr. Bampoe Addo made this observations during the annual thanksgiving service in Accra by CLOGSAG to thank the Lord God Almighty for protecting and guiding the entire staff from the beginning to the end of the year.
He took a swipe on political interference which have taken a center stage in the service and was quick to state that, staff within the service will be sanctioned for flouting the neutrality principle which forbids staff in engaging in partisan politics.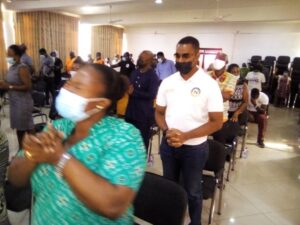 According to him, the country's political dispensation have challenged the service to institute and safeguard a high standard of neutrality and objectivity of the civil service machinery.
Adding that, the gesture will foster and strengthen public confidence in the democratic process of the country as we move forward.
Throwing more light on the principles of neutrality, the Executive Secretary said civil servants must refrain from engaging in appointments or promotion on partisan lines since visible partisanship by civil servants will impact negatively on public perception of neutrality.
"For the nation to achieve its developmental agenda and goals, areas that needs to be enhanced within the civil service includes the recruitment of the requisite calibre of personal, capacity building of staff across the rank and file of the service and an enabling environment for staff to discharge their duty effectively and efficiently," he stressed.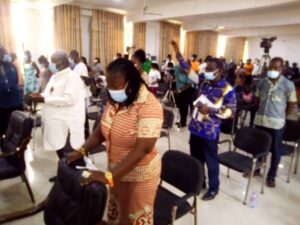 Pastor Bayo, resident pastor of CLOGSAG preached the sermon titled "Why are we thanking God" saying His goodness has spiritually empowered them and urged all the staff to continue to thank God for his protection over their lives and called on the public to observe the COVID-19 protocols in this yuletide.
Source: www.thenewindependentonline.com