Disinfection Chemicals Not Harmful
—Ahafo Zoomlion Manager Assures Parents
Source: Ishmael Barfi
Zoomlion Ghana Limited Regional Manager for Ahafo Region, Edward Zibbah, has assured parents that the chemicals used for the schools reopening mass disinfection exercise are not harmful and dangerous to human beings.
According to him, the chemicals used in the exercise will not cause any health implications and challenges to students when schools reopen.
The chemicals used for the exercise is one litre of chlorine to ten litres of water mixed up for the disinfection of these schools and tertiary institutions, therefore not harmful to human beings, he stressed.
Mr Zibbah made the observation when basic and senior high schools (SHSs) in Ahafo on Friday, January 8, 2021 underwent massive disinfection and fumigation.
"Chemicals we are using for the exercise is not harmful to mankind and the environment so parents should not be worried and disturbed of the health of their wards as they go back to school on said dates", he assured.
He added that the exercise will be continuous to help combat the Covid-19 pandemic as well ensure that all schools and public spaces were safe.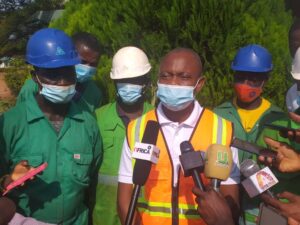 In all six hundred and ninety-two (692) basic schools, thirty-one (31) SHSs and one (1) tertiary institution (Goaso Nursing & Midwifery School) are expected to be fumigated and disinfected.
Meanwhile, the Asunafo Municipal Education Director, Madam Margaret Buobo, revealed that the directorate will be embarking on a 'Back to School' campaign to sensitise parents on the importance of allowing their wards to go back to school when school reopens.
In this regard, he indicated that about fifty (50) communities in the Asunafo Municipal Assembly would be engaged to ensure school children return safely to school.
She also stated that an orientation would be organised for all heads and teaching and supporting staff members with regards to the fight against Covid as well as on measures put in place to protect students in the schools.
On infrastructure, she pointed out that, the directorate was in talks with all basic, SHSs to utilise all available classrooms to practice social distancing during learning hours.
Madam Buobu used the occasion to appeal to parents to allow their wards go back to school when school reopens.
Source: www.thenewindependentonline.com