Adentan Police Command Wage War Against Criminals
Story By: Sheila Satori Mensa
To protect lives and properties as the main objective of the Ghana Police Service, the Adentan Divisional Police Command has seized about 59 motorbikes in an intelligence-led operation.
According to the Command, the operation was aimed at arresting criminals who use motorbikes in snatching bags from residents and inflict wounds on them at the least resistance within the Municipality.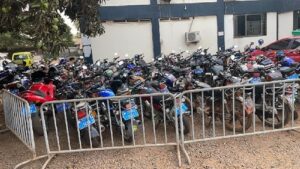 The operation led by Assistant Commissioner of Police (ACP) Joseph Owusu-Bempah started from 5-am today Wednesday, 3rd February, 2021.
Fifty (50) men from the Adentan Police Command with able support from the Accra Regional Police Headquarters undertook the swoop.
Meanwhile, in a voice note copied to www.thenewindependentonline.com, the Public Affairs Director of the Accra Regional Police Command, ASP Efia Tenge explained that, the operation was carried out within and around Adentan Housing Down, Survival School area, Adentan-Ayi Mensah road, Rori Junction on the Frafraha-Dodowa road, Lotto Kiosk and Adentan Aviation.
"This exercise is aimed at arresting and frustrating criminals who perpetrate violence on innocent persons with impunity, especially during rush hours around bus stops and terminals and deprive them of their items, she disclosed.
ASP Afia Tenge further stated that "we have already begun screening and profiling of these persons who have been arrested and those who would be linked to any crime, will be prosecuted without delay."
Currently, these riders of the arrested motorbikes are in the custody of the Adentan Police Command further investigation.
Source: www.thenewindependentonline.com
You can send us your stories via editor@thenewindependentonline.com or Whatsapp @ +233549522573