UNDP, KAIPTC launches maritime security capacity development training in Ghana.
Story By: Eric Nii Sackey
The United Nations Development Programme (UNDP) together with Kofi Annan International Peacekeeping Training Centre (KAIPTC) have launched a training programme that would ensure the safety and security in the Gulf of Guinea.
The project is essentially to enable experts and professionals in the maritime sector ensure maximum safety and security on the sea both in Ghana and outside.
Speaking at the launch, the Resident Representative of UNDP, Angela Lusigi said, piracy, oil bunkering, illegal fishing among others had become an area of interest for maritime crime in Ghana.
She noted that, report from the International Maritime Bureau's Piracy Reporting Center (IMB PRC) indicates that, for the firsr 9-months, kidnappings has increased to about 40 percent in the Gulf of Guinea as compared with same period in 2019.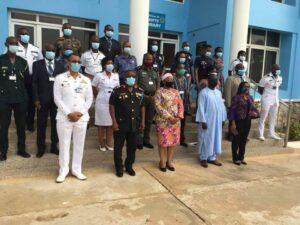 " some of the kidnappings happened off Nigeria, Benin, Gabon, Equatorial Guinea and Ghana", she said.
Angela Lusigi further said, Maritime insecurity from organised crimes such as illegal, unreported and unregulated fishing arms, drugs smuggling, human trafficking, money laundering, piracy and corruption are threats to development.
" such actions affects trade and economic development, lives of citizens in the coastal communities who suffer from water bodies polluted and poisoned by dumping of toxic waste which cause harm to the fish stock leading to reduction among others", she added.
However, she said, the financial implications of kidnapping and hijacking of ships which includes rise in insufficient and freight cost is channeled on to the consumer, reduced competitiveness and investments in the sector.
But also attributed the bad Implications at the Gulf of Guinea to that of weak governance coupled with factors like poverty and unemployment, adding that, " this would ensure a stable maritime environment that holds the key to economic progress.
She therefore called for collaboration and coordination among member countries with Ghana government to address the gaps and create a climate for accelerating sustainable development in the coastal communities and beyond.
She expressed concerns on the threats that details the progress made and therefore announced the commitments of UNDP to support such initiative that seeks to advance security and promote development in the country.
The Head of Conflict Management Programme at the Faculty of Academic Affairs, KAIPTC, John Mark Pokoo lauded such initiative because many citizens may derive some benefits that would enure to the benefits of all the regions as well.
Source: www.thenewindependentonline.com