Assemblies of God Women's Ministry Celebrates 80 Years of God's Grace
Source: www.thenewindependentonline.com
It was all joy as members of the Women Ministry of the Assemblies of God from far and near over the weekend converge at the Liberty Assemblies of God church situated at lapaz, a suburb of Accra to launch its 80th anniversary within the southern sector of the church.
The event which is a year long celwbration was graced by the General Suprintendant of the Church, Prof. Frimpong Manso.
Addressing the teeming crowd of women, the Women's Ministry National Director, Rev. Mrs. Gladys Abu Baba appreciated the selfless role of women in their respective homes, churchs and the societies at large.
To her,women are naturally gifted in prayer for the church and their homes, adding that most women do not talk about issues they go through in their respective homes.
Inaddition, have adopted children who are not their biological children and taking care of them, hence training them in the ways of the lord as well making them responsible citizens in the society.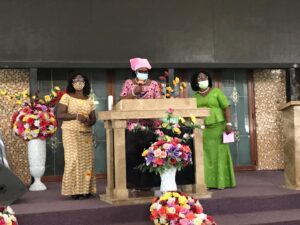 Not forgetting women who sacrifice to take of missionaries of the church.
Speaking on the brouhaha of LGBTIQ+, the National Dorector of the Women's Ministry noted that, as a church they have taken keen interest in the education and advocacy against such movement within the congregation.
She therefore used the ocassion to call on mothers within the Christian body to take keen interest the upbringing of children under their care within their various homes with regards to the LGBTIQ+ Movement.
"Children of today are social media friendly and can visit unapproved site on their blind side"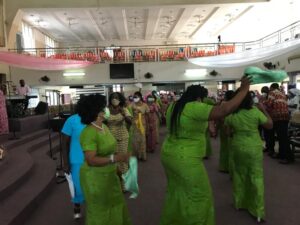 .
Furthermore she pleaded with the government of the day not to pay lip service to this issue and should not be made partizan but as a matter of urgency speak out on this issue for the future of this country is at stake.
On her part, the Greater Accra East Director of the Minstry, Madam Sabina Yawson admonished mothers' to take an interest in their children's education.
On the subject of LGBTIQ, she acknowledged that, this practice have become part of our society and that, it has been around since the 1950's but now more active within our second cycle schools hwnce not a new menance.
However qas quick to say, it is important for every one to play thier role as we fightthis menance.
Before God, she noted that, it's a sin so asmonished every christain to evangelise to them that God loves them for them to repent and go the way of the Lord.
"We have to show them grace and Love, as well engage then to know their challenges", she reteriated.
Source: www.thenewindependentonline.com