UNFPA supports fight against Domestic Violence with a Support Center & Mobile App 'Boame'
Report by: Ishmael Barfi
In efforts to fight, assist and support victims and suvivors of sexual and gender-based, violence, a Domestic Violence Support Center has been launched by the United Nations Population Fund-Ghana (UNFPA Ghana) and its partners; Ministry for Gender, Children and Social Protection (MoGCSP) and the Domestic Violence and Victims Support Unit of the Ghana Police Service.
The Domestic Violence Center aim is to provide holistic assistance to victims and survivors of sexual and gender-based violence in the Greater Accra Region and beyond.
For efficency and realization of the vision of the center, 'Orange Support Centre' the Boame mobile app was also launched in Accra on Thursday, March 11, 2021.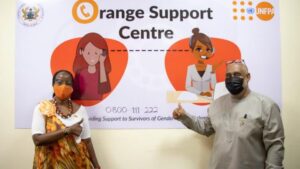 Addressing the press and dignitries at the launch, the Director of Research at MoGCSP, Efua Ayanful acknowledged that domestic violence hinders the development and enhancement of women, girls and children are violence against women and children in Ghana.
She further explained that, these violence do have great effect on the country's economic, health and education sectors.
Though men she noted do also experience domestic violence, women are worse victims according to statisitics available adding "Domestic and gender-based violence is one of the most heinous acts which is not only dehumanizing but constitutes a grave violation of the fundamental human rights and freedom of its victims especially women and children."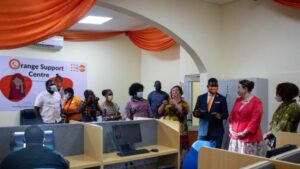 Therefore the establishment of the Domestic Violence Support Center to her, Efua Ayanful has been long overdue and used the opportunity to commend UNFPA and its partners for having such a vision.
The establishment she noted is vital in the fight against domestic violence and rendering support to victims of sexual and gender-based violence.
She affirmed the Ministry readiness and willingness to continue care about the vulnerable in the society and to that effect, "we have been taking steps to find some solutions to alleviate the suffering of survivors'.
Therefore expressed the Ministry appreciation to United Nations (UN)  through UNFPA for numerous support  especially refurbishing the domestic violence centre and the just commissioned Centre.
"We believe that among other things, it will serve as a clear entry point for citizens who require domestic service and also simplify administrative procedures and processes." she added.
Throwing more lignt on the available statisitics on domestic and gender-based violence in the country, in 2017, the number of defilement cases reported according to her was 703 with rape being 311 whilst the number of assault cases was the highest, 5,019.
Meanwhile, in 2018, she stated that, there was a slight decrease, with defilement and rape being 634 and 211 respectively whiles assault cases were 2,856.
This was not case in 2019 because defilement cases rose sharply to 1,285 just as rape, which stood at 376, with the number of assault cases rising to 5,333.
Although official statistics for 2020 are not out yet,  she anticipated that, domestic violence cases are likely to increase due to the COVID-19 situation and its resultant closure of schools and businesses that saw many people staying at home and with their potential abusers.
On her part, the Director for UN Systems at the Ministry of Finance, Gladys Osabutey emphasized that, the centre and the mobile app are key steps towards eliminating all forms of violence and discrimination against women and girls in Ghana.
Ghana's current situation of sexual and gender-based violence she explained means that the country "[is] indeed in a battle against sexual and gender-based violence," adding that although the situation is bleak, "it is not beyond salvation."
The Orange Support Centre is the first of kind in Ghana and will offer psychosocial support, counselling and legal assistance services and also referral to shelters.
The Domestic Ciolence Support Center according to the Country Representative for the UNFPA in Ghana, Niyi Ojuolape will operate a walk-in service as well as a call centre that will enable victims get various assistance in the most confidential manner and environment.
The goal of the Center according to him is to beat all forms of domestic abuse and transition victims to survivors, hence reduce domestic violence against women, young girls and children.
The Orange Support Centre can be reached on toll-free number 0800111222 or through the Boame mobile app.
Source: www.thenewindependentonline.com