Fast track prosecution of crime cases – Chief Justice urges Attorney General
Report by: Ben LARYEA
The Chief Justice, Justice Kwasi Anin Yeboah has urged the Attorney-General's office to fast track prosecution of crime cases brought before it to ensure expeditious trial.
He therefore assured the A-G's office of his support to institute specialised courts to enable state attorneys discharge justice delivery effectively and efficiently on the prosecution of organised crimes.
He consequently urged the AG's outfit to report clandestine activities such as the presentation of fake documents in criminal appeals.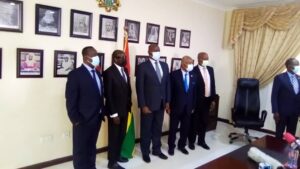 Justice Kwasi Anin Yeboah made the call during a courtesy call on him by the Attorney-General (AG) and Minister of Justice, Mr. Godfred Yeboah Dame at his office in Accra.
In a remark, the Chief Justice advised the A-G to be steadfast in the line of duty to enable him receive good feedback in the justice delivery and recalled a challenge with some lawyers at the Lands Commission whose working activities slows down the prosecution of land cases in the compensation of traditional authorities.
He however called for close working ties with the A-G saying their activities must go beyond the court room activities to enable both institutions work harmoniously to enhance the judicial systems.
The Attorney-General for his part said his outfit will enhance the collaboration between all the investigative bodies such as the Economic and Organised Crime Office (EOCO), Criminal Investigations Department (CID), Police Service among others to effectively investigate criminal cases.
Mr. Godred Odame disclosed further that the AGs Department is experiencing challenges of inadequate staff as well as State Attorneys which have slowed down justice delivery systems and thus called on government to resource the A-G Department with needed human resource, logistics and sufficient funds to build the capacity of staff.
Turning the spotlight on the relocation of the A-G office, he said plans are far advanced to move into an ultramodern office complex known as the "Law House" adjacent to the High Court complex in Accra and pointed out that the Ministry of Finance have made the necessary financial arrangements for the completion of the edifice.
For her part, the Director of Public Prosecutions, Mrs. Yvonne Atakora Obuobisa said the justice-tracking system rolled out couple of years ago is currently piloted in Cape Coast and Ho in the Central and Volta Region respectively adding that the move have contributed to the smooth running of the courts.
She explained that some jurors have been in the court for more than 15 years, a situation she describes as quiet worrying and was quick to state that their ability to compromise is eminent and thus suggested an amendment to the law of the juror system.
Source: www.thenewindependentonline.com