"Danger Looms over Ghana"  – Nii Apenkwa I Warns 
… Reveals Monetary Influence fueling Fire in Chieftaincy, Land Sectors
Story by Frederick E. Aggrey
Nii Apenkwa I, Mantse, known in private life as Stephen Nii Ako Thompson of Apenkwa in the Greater Accra Region of the Republic of Ghana, has warned that, Ghana risks grave danger if urgent steps are not taken to deal with money influence in chieftaincy and land issues.
He stated that, danger looms with the extent to which the phenomenon has bruised innocent individuals and almost engulfing all sectors that deal with chieftaincy and land issues.
According to him, there is so much acrimony and hatred in people who have been made victims of land theft and wrongful and illegal chieftaincy manipulations, especially in the Greater Accra Region.
He added that, it is one of the major reasons that people decide to employ all means available and necessary to protect their property, inheritance and heritage.
He added that, people use money to influence other traditional leaders and stakeholders to forcefully and illegally claim their lands so painfully, especially when they see the person is either not financially sound to counter them or vulnerable.
He added that, this phenomenon prevails in the Greater Accra region, where land administration agencies and some officials, related law enforcement agencies and some officials and certain related traditional rulers are sometimes influenced to either cheat innocent individuals and institutions or forcefully and illegally aid wrongful persons to deprive people of their hard earned properties.
Speaking during his traditional coronation as Mantse of Apenkwa in Ashiaman over the weekend, NiiApenkwa I called on government to take note of this tension brewing situation and take immediate steps to address it.
He promised to be a shining example in exemplary and honest leadership, as a role model to the youth and upcoming generation, also calling on all stakeholders in the chieftaincy institution and those in related agencies to allow truthfulness, trust, fairness and firmness prevail in their dealings, especially on land and chieftaincy matters.
Respect Old Chieftaincy Tradition
Nii Adjetey Obuorbuor II, Overlord of the Gbewomli Royal Family of the Ga State has on his part called for respect for old chieftaincy traditions handed over by ancestors, in order to reduce the many chieftaincy and land disputes that risk explosion and also secure the sanctity of the Ga tradition.
He said that every town or community knows their land, their boundaries and their heritage, so it is abomination and illegal for people to use force to take over and or sell lands which does not belong to them.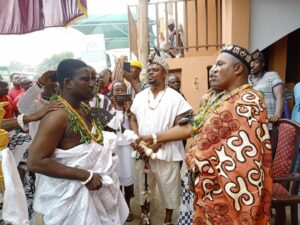 He blamed some kingmakers of communities for most of the chieftaincy and land disputes in the country.
He explained that, some of them allow themselves to be influenced by monetary consideration to do the wrong things.
In view of this, he proposed that kingmakers must be made to swear to the oracle that should they be corrupt in their dealings and responsibilities, they should bear specific consequences, adding that it would help sanitize the chieftaincy and land sector.
Source: www.thenewindependentonline.com