'Let's intensify our efforts towards prevention of teenage pregnancy- Queen mothers urged
 Report by: Ishmael Barfi, Akosombo-Eastern Region
Recent data from the Ghana Health Service indicates that, the rate at which young girls are getting pregnant is alarming.
According to the data teenage pregnancies in 2020 stood at 13,444 among girls between age 10 to 14 years and 542,131 among girls between 15 and 19 years.
Therefore Queen Mothers across the country have been called upon to educate the girl-child on the prevention of teenage pregnancy in their respective communities to bring the current situation under control.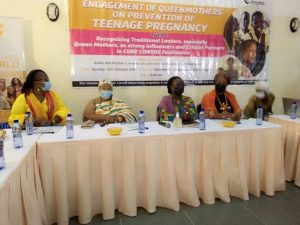 Revealing the data at a one-day training for Queen mothers on prevention of teenage pregnancy,  Dr. Doris Aglobitse, National Programme Analyst in charge of Communication, Partnership and Resource Mobilization at the United Nations Population Fund (UNFPA) Ghana explained that, the current statistics on teenage pregnancy in the country is alarming and worrying, and that if nothing is done about it now, it could have dire consequences on the country in the future.
To her, there is the urgency for stakeholders especially Queen Mothers to intensify education efforts, as well devise new strategies to tackle the menace in their respective communities in Ghana.
The one-day training held at Akosombo in the Eastern Region organized by the United Nations Population Fund (UNFPA) Ghana in partnership with OBAAPA Development Foundation was under the theme: "recognizing Traditional leaders, especially queen mothers as strong influencers and critical partners on CUBE CONVOS facilitation".
Giving the regional breakdown of teenage pregnancies, Dr. Aglobitse indicated that, Ashanti, Eastern and Central regions top the list of regions with high incidence of teenage pregnancy with Eastern Region being the second region with the highest teenage pregnancy record in Ghana.
'Traditional leaders, especially queen mothers, play a critical role in conveying and transferring knowledge on the above-mentioned issues using culture and tradition as a powerful tool to curb their occurrence', she acknowledged.
To this effect, Dr. Doris Aglobitse stressed that, it is time to deliberate on creating a conducive environment for adolescent girls to develop, be protected from SGBV and to speak out against gender injustices triggered by negative social and traditional norms.
On her part, the Paramount Queen Mother of  Akwamu Traditional Area, Nana Afrakoma II bemoaned the high rise of teenage pregnancy in Ghana especially in the Eastern Region.
This, she emphasized needs to be reversed, and pledged to work with other queen mothers under her jurisdiction to put in place strategic and innovative measures in engaging the young people especially the girls to address this menace.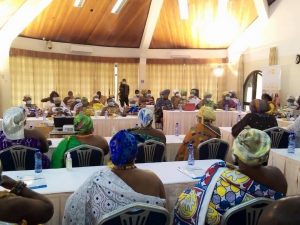 "As Queen Mothers, we are the mothers of these young girls, therefore there is the need for us to get close to them, interact and engage them to know what is happening in their lives as young girls", he asserted.
To this effect, she agreed to the need to facilitate solution-based dialogue among adolescent girls and traditional leaders on rapid response to teenage pregnancy in the region.
In addition, she called on traditional leaders to mentor girls using culture and tradition as a tool.
"We will have no Ghana if we do not stand up and united to fight this menace. United we stand", she concluded.
The Queen Mothers discussed topics like Menstrual Health, Ending SGBV, Assertiveness.
Source: www.thenewindependentonline.com