CONIWAS Chairman advocates for National Hygiene Policy
Story by: Ishmael Barfi-Accra
The Chairman of the Coalition of NGOs in Water and Sanitation (CONIWAS) has called for a National Hygiene Policy that will encourage effective hand washing practice among citizenry.
According to Mr. Yaw Attach Arhin, the practice of hand washing in the country is not encouraging that, there is the need for government to put measures in place to ensure proper hand washing is practiced.
Mr. Yaw Attach Arhin who is also the Technical Coordinator of World Vision Ghana, made this call at the World Global Hand Washing Day celebration in Accra held by Zoomlion Ghana Limited at Sowah Din Memorial Cluster of Schools in the Adentan Municipality.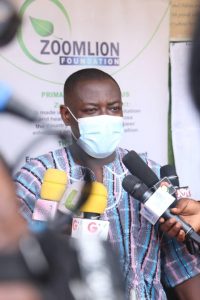 Since 2008, Global Hand washing Day has been marked yearly on October 15 to promote hand washing with soap and water as an easy, effective, and affordable way to prevent disease and save lives.
The theme for this year's celebration was "Our Future is at Hand Let Us Move Together," and the slogan is; "Seconds Save Life."
To him, most of the state institutions across the country lack facilities that promote good hygiene.
"Most wash rooms in state institutions are not up to standard of good hygiene, you get there, the taps are not flowing and no soap to even wash your hands with, to talk of tissue to clean your hands", he lamented.
He also used the occasion to appeal to government to set up other facilities in public places to help in the regular washing of hands.
Speaking on the purpose of World Global Hand Washing Day, he explained that, the day is to promote the culture of hand washing with soap in all societies, create awareness on the state of hand washing in each country and inform people about the importance of hand washing.
He therefore encouraged the students to practice proper hand washing under running water and ensure they equally educate their peers at home to prevent  diseases at home and in the community.
Source: www.thenewindependentonline.com