Climate Change Fight: Participation & Involvement of Women is Crucial- Head of Programs, ABANTU for Development
Story by: Ishmael Barfi- East Legon
Participation and involvement of Women according to the Head of program for ABANTU for Development Grace Ampomaa Afrifa is crucial in the fight against climate change in Ghana.
To her, women are essential component that needs to be involved in decision-making, as well implementation of policies, projects in all sectors in the country explaining that, " it is time and important to get women on board to enhance the climate change fight course".
Mrs. Afrifa further stated" the kind of knowledge women brings on board do benefit the majority and not only the women constituency because women contribute significantly to environmental, sustainability, food security and adaptation issues in the country.
Revealing that, about sixty one percent (61%) of rural household in Ghana is headed by women hence the need to engage and listen to them with regards to matters that affect them like climate change and it's related issues.
The Head of Programs, ABANTU for Development Mrs. Grace Ampomaa Afrifa made this call at the two-day National Workshop & CSOs Training on Gender &Social Inclusion in GCF Processes in Ghana organized by KASA Initiative with support from Care, GERMAN WATCH and Federal Ministry for the Environment, Nature Conservation and Nuclear Safety through the International Climate Initiative (ICI).
The workshop held in Accra was to enhance the capacities of Civil Society Organisations (CSOs) towards increased accountability and transparency of national authorities and implementing actors of the Green Climate fund (GCF) activities through participatory, monitoring and evaluation.
However, she explained that Ghana as a country is beginning to gain more grounds with regards to women participation and involvement at the national level because currently there has been a lot gender mainstreaming with national policies and programs adding "Even with the Ghana National Climate Change Policy there is a section on women in climate change".
Also she noted that, there is also a focal person at Ministry of Gender and Social Protection who is a member of the stirring committee on the implementation of Ghana National Determined Contributions making inputs into the action areas .
In addition the Ministry of Environment, Science & Technology (MESTI) and the Environmental Protection Agency (EPA) have together formed a committee known as the Gender grouping to ensure that each of the 19 actions point gender is been mainstream in the action point.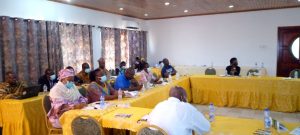 "Therefore there are entering point and opportunities for increasing gender responsiveness Within Ghana's climate change in implementation and action", she stressed.
Adding, "there is more room for engaging with state institutions so that gender is not only mainstream at the implementation stage when advocacy comes in but through out from the design to implementation, monitoring and to the development of indicators and result framing.
Gender, Mrs Afrifa said forms a key component of this project saying, her organisation, ABANTU for development has empowered women both at the local level and the national level.
Adding that, they have trained Civil Society organizations (CSOs) that work across the 16 regions to also empower their constituency that works at the local level.
On his part, Program coordinator of Care international Ghana Yakubu Zakariyaa explained that, the workshop is to ensure that, civil societies are ready for the Green Climate Fund (GCF) project hence prepare and build these CSOs capacity to participate in all GCF processes.
According to him this "initiative will support Civil Societies Organizations (CSOs) so that they can engage in the way our natural resources are managed in Ghana including issues around climate change and how we can support government to ensure that climate actions are benefiting the venerable".
Furthermore to also understand how much money Ghana has received so far, what are the various projects that Ghana has received money for and also how can civil societies monitor the implementation of these projects.
On Gender & Social Inclusion, he stated that, the workshop aims to increase Stakeholders capacity to understand the gender requirement in GCF process and how they can understand it to be able to support the process.
The Green Climate Fund (GCF) is the world's largest climate fund mandated to support developing countries raise and realize their Nationally Determined Contributions (NDC)ambitions towards low-emission, climate-resilient development pathways.
Africa despite it's low contribution to greenhouse gas emissions, remains the most vulnerable continent to climate change impacts.
Africa is a region which the GCF has a major focus, and had started to allocate substantial financial commitments to projects and programmes that are expected to be transformative.
GCF was established in 2010 as an operating entity of financial mechanism of the United Nations Framework Convention on climate change designed to disburse new and additional resources for addressing climate change.
Ghana became a GCF-ready country in 2015 when it applied for the Ministry of Finance (MOF) to become a National Designated Authority (NDA) whiles in the same year, the country signed on to the Paris Agreement which was later ratified in 2016.
Source: www.thenewindependentonline.com