Improving Healthcare: GHS Engages Media on Essential Health Services
Story by: Magdalene Duncan
The Ghana Health Service (GHS) has held a stakeholders forum with the media on how to improve uptake of essential health services during and post COVID-19 pandemic in Accra, Ghana.
The forum sponsored by the UNDP, World Health Organization, USAID, Unicef,Breakthrough Action and the Ministry of Health, brought together personnel from the various media houses in Accra.
Spelling out the main objectives and goals of the engagement, Mr Joel Abekuliya  noted that since the COVID-19 pandemic and subsequent confirmed cases in Ghana, all the country's health resources had been channelled to tackling the pandemic to see how we can take away this menace for the citizens to go back to normal days.
This he added has been to the detriment of other essential services and has contributed to a reduction in the uptake of essential health care services, especially MCH and nutrition services as well as infection diseases.
This challenge he acknowledged demands immediate interventions to restore trust and improve uptake of health services to prevent reversal of gains made from the effective implementation of health programs.
He was of the view that the GHS has been able to increase information on COVID-19, "even a child knows what COVID-19 is and how he/she can protect himself."
That according to him is "a good achievement" noting that its because" a lot of resources has been channelled to this effect".
He further observed that the restrictions and lockdown had effect on health services however, indicated that," we are trying to go back to normal times and that means that we need to see how we can deal with these issues that we have with essential health services".
"We can not do it alone hence engaging the media not to take reports but to give recommendations to see how we can improve essential services because you have been champions of the COVID-19 pandemic", he noted.
It was further revealed that special arrangements have been made to improve health services at health facilities and COVID-19 prevention recommendations shall be strictly observed in addition to these special recommendations to specific groups such as antenatal care, labour and delivery, adolescents health and child welfare clinics.
Addressing the forum on behalf of the Director General of GHS, Dr. Dacosta Aboagye, Director of Health Promotion, welcomed the participants saying  "we are still in the pandemic and no doubt that essential services have been affected".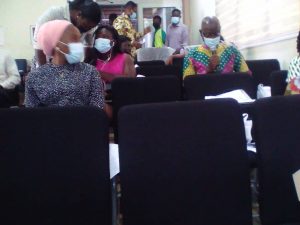 "Do you remember our message stay home, stay home?…stay home means so many things and stay home not when you are dieing. You need to call for help. Hence the emergency lines" he stressed.
He said there is need to educate the populace that, hospitals are open and they can still get health services within the community health centres, all GHS facilities.
"They really do not have to stay home when they need  medical attention because they can report to the nearest facility for any conditions that they are facing", he stated.
He however revealed that, major health services for these health challenges naming maternal health, HIV/AIDS, Tuberculosis, Malaria and Manegetis were impacted heavily due the pandemic adding "we obviously have to step up the game to ensure that people are accessing these services".
The Ghana Health Service (GHS) he explained can not do it on their own and hence the reason for engaging the media to increase access to the services during and after the pandemic.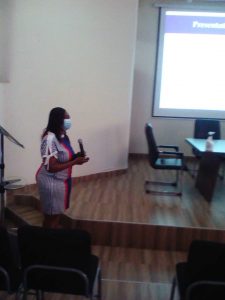 Adding that "the recommendations from the media will help the GHS on how to create awareness and ensure that people take our services."
The open forum discussions gave participants the opportunity to share their views on the COVID-19 pandemic and effects on the essential health services and the need to improve health services in the country.
Other participants at the forum were Miss Claudette Ahliba Diogo of FHD and Dr Cornelius Depuur, from RDD who took participants through presentations on the overview of impact of COVID-19 on uptake of essential services, a study by RIPPS ,UG and overview of impact of COVID-19 on uptake of essential services; case studies respectively was shared.
Source: www.thenewindependentonline.com