Big Boost for APHRO Beverage as Nigeria and Ghana explore Trade & Business opportunities
Report by Ben LARYEA
The Nigeria High Commissioner to Ghana, Admiral Ibok Ekwe Ibadan (Rtd) in the company of a team of delegation has paid a working visit to the GIHOC distilleries to familiarize themselves of the working operations of the company.
Speaking to officials of the company shortly after the tour, he said Ghana and Nigeria have contributed immensely to trade and investments in the West Africa sub-region which have accounted for close to 70% of their Gross Domestic Product (GDP) in recent years.
Trade partnership between the two countries particularly in the areas of beverages he noted will help create jobs for the unemployed youth since fervent preparations have been put in place to establish a beverage company in Nigeria, adding that a beverage product named "Palm spirit" will soon be launched in Nigeria.
The Nigeria High Commissioner urged the two trading partners to tap into the business potentials of both countries and also find innovative ways to put the raw materials in the beverage value chain into good use to boost industry production hence support the socio-economic growth and development of both countries.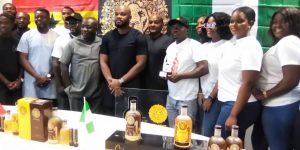 He explained the raw materials for the production process are close to our environment hence both countries must take advantage of the resources and turn them into finished and consumable products for the benefit of the two countries to satisfy customer demands.
The Chief Executive Officer (CEO) of APHRO Beverages, Mr. Charles Kojo Buckuor said the product is less than a year on the Ghana market but have made great strides among its competitors in its competitors leading to an award of the "Best Spirit drink of the Year".
He however explained that the palm spirit is a multi-distilled drink blended with fruits, herbs and spices from the tropics and as a result of its marketing strategies and the gains, APHRO beverages have chalked successes on the trading market.
He further said the company has signed a Memorandum of Understanding (MoU) with Ghana giant distilleries GIHOC to produce the beverage, adding that the deal have enhanced the growth of the company.
On how the African Continental Free Trade Area (AfCFTA) will support the companies in the country, Mr. Buckuor said it is laudable trade initiative which will support member countries to trade among themselves to reap the needed gains and therefore commended government for the ideas and concepts behind it.
Source: www.thenewindependentonline.com