Enhancing agric is key to 'Ghana Beyond Aid'—Agric Minister
Story by: Ishmael Barfi- North East Region
The Food & Agriculture Minister, Dr. Owusu Afriyie Akoto, has stressed the agriculture sector is key to the realisation of the "Ghana Beyond Aid Agenda" of the Akufo-Addo-led government.
To him, the New Patriotic Party (NPP) government is on course and committed to support farmers across the country to make Ghana to achieve this agenda.
"Akufo-Addo-led government believes and knows the importance of investing in farmers, hence the introduction of series of intervention such as the Planting for Food & Jobs, Rearing for Food & Jobs, Fertiliser Subsidy, and Farm Mechanisation in Ghana".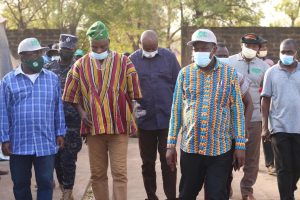 All these policies he noted, are to alleviate poverty as well as improve the lot of farmers and the citizenry at large.
Dr Akoto Owusu Afriyie made these statements when he paid a courtesy call on the Overlord of Mamprugu Kingdom, Naa Bohgu Mahami Abdulai Sherigu, at his palace as he tours the five regions in the northern sector to ascertain the works and projects being undertaken by his Ministry under the Akufo-Addo led government.
The Sector Mnister's tour which started on Sunday, 4th December, 2021, will offer him the platform to interact with key stakeholders in the agriculture sector in the five regions namely Northern, North East, Upper East, Upper West and Savannah.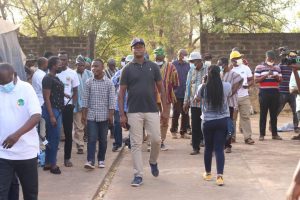 The tour is also to enable the Minister assess the performance of his Ministry at the regional level in all the 5 regions, more especially on government's support for its flagship programme, Planting for Food and Jobs (PFJ), and also to help them expand their businesses with ease.
He used the visit to assure the Overlord of Mamprugu Kingdom of government's readiness and commitment to alleviating poverty in the northern part of the country through continuous investment in the agriculture sector.
"Farmers are the integral component of the Akufo-Addo-led government policies on agriculture as we work tirelessly to boost the food production and stocks of the country," he said.
Welcoming the Food & Agriculture Minister to his Nayiri Palace, the Overlord of Mamprusi Kingdom, Naa Bohgu Mahami Abdulai Shergu, thanked the minister and his directors for making time to visit the community.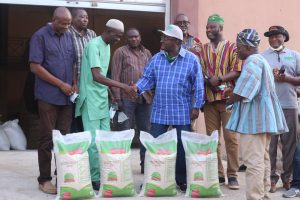 Naa Abdulai Sherigu shared a story about how his senior brother who was an agriculture extension officer advised him on his farming activities.
He therefore challenged the Minister to ensure that extension officers carry out the needed knowledge to the farmers to improve their yields, adding that the region was one of the leading food baskets in the country.
Day 3 of the Sector Minister also saw him visiting the Presbyterian Agriculture Service where he interacted with the women farmers and assured them of his ministry's support.
The Minister's convoy later stopped at Tamanaa Company Limited Ricemill Factory located on the Accra-Tamale Highway and one of the newly constructed warehouse.
Source: www.thenewindependentonline.com