Story by: Ishmael Barfi
The Akufo-led government has been called upon to salvage the Ghana Prisons Service from its numerous challenges to enable the Service to effectively execute it's constitutional mandate, that is 'the safe custody of convicted persons from the courts as well as the provision of Reformation and Rehabilitation programmes for their successful resettlement into society'.
The call was made by the Deputy Director-General of Prisons(Finance & Administration) Mrs. Josephine Fredua-Agyemang during her farewell parade and pull-out ceremony from the Ghana Prisons Service at the Prisons Training School, on 14th January, 2022 in Accra.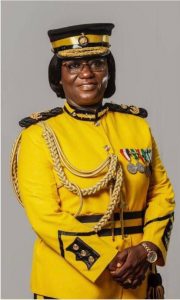 Outlining some of the challenges, Mrs. Fredua-Agyemang revealed that, the Prisons Service lack operational and utilities vehicles, lack of training opportunities for officers, lack of workshops to equip prisoners  with rehabilitative skills.
In addition, lack of healthcare facilities, as well as lack of logistics such ad body scanners and CCTV's among others.
The Out-going Deputy Director-General also  seized the  opportunity to call on individuals and corporate bodies to partner the service in the area of Agriculture, Health, Building and Construction, Education and Sanitation.
"I wish to emphasize that ameliorating the abovementioned operational and logistical challenges is crucial to enhancing the capacity of prisons to fulfil its constitutional mandates", she acknowledged.
Speaking at her farewell parade and pull-out ceremony, Mrs. Josephine Fredua-Agyemang expressed her profound gratitude to the leadership of the Ghana Prisons Service, the female Prisons Officers, senior prisons officers and the entire rank and file of the Service as well as former Director-Generals of the Service.
"I am much privileged to be alive today and to witness such a cheerful gathering of distinguished personalities, officers, family and friends who have left their busy schedules to be here to celebrate with me on the occasion of my end of service to the Ghana Prisons Service and Mother Ghana", she noted.
According to her, thirty two years of her journey with the Ghana Prisons Service has not been all rosy, yet fulfilling and full of impactful experiences.
Revealing that, "there were times that I was confronted with the most challenging situations and others that I was embraced with good news that fortified my resolve to carry on".
To her, throughout the days with the Service, she has learnt so much lessons that, in life one thing  one needs to learn is that, one needs to remain positive and optimistic in all situation
Explaining that, the work of a prison officer is not solely about making money but is more than that.
Mrs. Josephine Fredua-Agyemang noted that, the Service helps one to build a career, work with different people from different backgrounds, learn new skills, and above all, learn from the misfortunes of the large number of prisoners who are entrusted into your care to be transformed.
"While we work assiduously to transforming them, conversely, your life also gets transformed because as the adage goes, 'he is wise, who learns from the misfortune of others', she indicated.
Working in the prisons she exalted is a privilege and a life changing experience one may not get anywhere adding that, the most important denominator in "our chosen career is the professional relationship we share together".
She therefore urged the rank and file of the Ghana Prisons Service to take these relationships seriously and not to jeopardize them as they may go a long way to assist you as officers positively.
Recounting her days in the Service, she revealed that, "I joined the Ghana Prisons Service in 1990.  This was at a time much attention was not placed on improving the deplorable prison conditions".
In addition, "the prisons all over the country had pit latrines and the environment was quite unpleasant and hazardous to the health of both officers and inmates. Officer's uniforms were difficult to come by. Salary and conditions of service were equally not enviable to be discussed".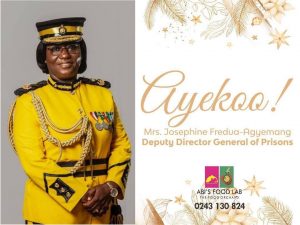 These numerous instances she stated could have made her regret for choosing to work as a prison officer, but as the frustrating moments began to show up, "I quickly had to brace up, and ask myself what I could do in my small way to change the situation as little drops of water makes a mighty ocean".
"With this mindset and positive attitude, I made conscious efforts to be a game changer whichever station I worked and indeed I never left any station the same as I met it".
She used the occasion to acknowledge the contributions, commitments and sacrifices of all former Director Generals of Prisons who committed resources to this success and a special appreciation to all Regional Commanders and officers in charge  together with their staff who through partnerships and collaborations contributed  to this feat.
"Today, we all have to share the exoneration of success that came with this intervention which has culminated in the tremendous improvement we see in our prisons presently adding that, "we have worked together to rebrand the service and this we have achieved through your hard work, discipline, dedication and commitment to work".
"Though we have come far as a Service, more is still expected of us especially in our drive to become a world class correctional Service".
Stressing that, she is optimistic that the strategic vision of the current administration is viable enough to bring into fruition the transformations that we are all expecting to see in the Service.
"What is left now is the commitment and support of all officers to the goals and vision of the Prison Administration".
Furthermore, "It is not enough to limit ourselves within the confines of our everyday routine but to activate our creative minds, develop a strong will, and resilience and go all out to plan and execute programs and projects that will drive the service closer to achieving its vision",she admonished.
"Though as officers, challenges abound in every facet of our endeavors, we must make it a point to rise above every challenge be it that of the Service or personal, and make a determined resolve to work harder to change the fortunes of the Service".
Mrs. Josephine Fredua-Agyemang holds a Bachelor of Arts degree in Social Sciences with Geography and Sociology as her major subjects from the Kwame Nkrumah University of Science & Technology  holds a Post Graduate Certificate in Public Administration from GIMPA  and a Mater of Arts Degree in Guidance and Counselling from the University of Cape Coast.
She started her career as an Assistant Superintendent of Prisons through to Deputy Director General of Prisons.
Source: www.thenewindependentonline.com