Report by: Ishmael Barfi
TYPE GROUP, a communications and marketing companies has launched a new Self- Service Laundry dubbed "RAPID WASH" facility in Accra.
The Self-Service laundry 'RAPID WASH' according to the Chief Executive Officer of TYPE GROUP, Mr. Coby Asmah indicated that, the Self-Service Laundry within Tema Community 18, sakumono, Spintex, Lashibi, as well as it's environment was designed to respond to the needs of the working class who have little or no time to do their own laundry and also sees conventional laundry expensive.
The TYPE GROUP Chief Executive Officer, Mr. Coby Asmah made these remarks at the official out-door of the Self-Service laundry 'RAPIDWASH' at Tema Community 18 Shell filling station in Accra.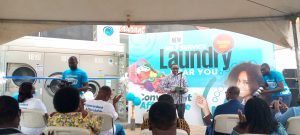 The Self-Service laundry 'RAPIDWASH' is in partnership with Vivo Energy.
"We bring relief to the busy, working class with large families as well as for the busy executives, they just have to drop off their laundry and pick them up on their way from work", he said.
Mr. Asmah revealed that, similar facilities would be set up to provide convenience to people from all walk of life especially students at their respective hostels.
This he said is to ease the stress and worry of these students, hence gets the ample time to study and concentrate on their books.
"One can get his or her laundry done in the hours of 6am to 10pm each day at the Community 18 Shell filling station", he added.
Explaining how the out door self-Service laundry works, he said the eight kilogramme machine can take up to 20 shirts at a cost of 20.00 Ghana cedis, while the 18 kilogramme can take more with a free provision of detergents for all washing.
"This is part of the measures to reduce the monetary effects of the COVID-19 on the public.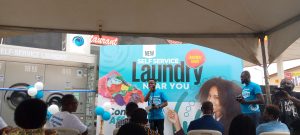 Meanwhile, to compliment government efforts with regards to job creation, the Chief Executive Officer of TYPE GROUP, Mr. Asmah revealed that, his organisation will soon start a training program for Senior High School leavers young graduates as well as members of the public who desire to take laundry service as their profession.
To him, his firm saw the need to contribute towards the enhancement of social entrepreneurship as part of it's Corporate Social Responsibility (CSR).
The training programme he noted aims to reduce the youth unemployment situation in the country stating that, trainees would be supported to set up their own laundry services, hence also provide employment opportunities to young people who desire to be in the laundry business.
Source: www.thenewindependentonline.com