Report by: Ishmael Barfi
The planned extension of contract of the Managing Director of Electricity Company of Ghana (ECG) Mr. Kwame Agyemang Budu has been fiercely opposed by both the Junior and senior Staff of ECG.
Junior and Senior staff rejection of Mr. Kwame Agyemang Budu extension of contract is as a result of he been due for retirement as at February 17th this year.
Addressing a news Conference in Accra on Tuesday (March 15,2022), the General Secretary of Public Utility Workers Union (PUWU) of TUC Ghana, Mr. Michael Adumata Nyantakyi explained that, their action is due to the MD abysmal performance leading to the collapse of the state owned company (ECG).
The company he indicated has taken a nose dive in terms of infrastructural development adding that even stationary materials for the running of the day to day activities of the company is not provided for use citing A4 sheet.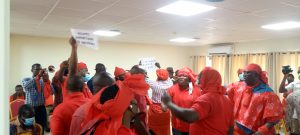 Citing some of the reasons for their actions, Mr. Adumata Nyantakyi revealed that failure of the MD to ensure the reimbursement of statutory deductions from staff's salary coupled with "one man show", abuse of directors and shortage of ECG poles and cables.
The above he said necessitated the call by the NEC of the ECG senior staff to call for the MD's contract not to be extended"
"The meeting further acknowledged that Mr.Kwame Agyeman Budu had finished his stewardship with ECG and think the appropriate and befitting thing to do is for him to retire honorably without inviting industrial disturbances and that the meeting rejected any imposition of Mr. Kwame Agyeman Budu on the ECG staff", he reteraited.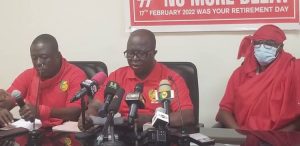 Adding that, "The resolution intimated that any contract extension will not help sustain the current peaceful and congenial industrial atmosphere within the company", the PUWU General Secretary stressed.
The continuous stay of the Managing Director of the Electricity Company if Ghana (ECG) according to the Union is seriously affecting the operations of the company hence the need for him to be replaced.
The Union therefore advised government to appoint a new MD to replace Mr. Kwame Agyeman Budu and give him ( the new MD) a target and Key Performance Indicators(KPI) in order to help reposition the company and make it more viable.
Some charged staff where seen holding placards with inscription like 'ECG is Collapsing', 'Don't impose this incompetent MD on ECG', 'Acute Shortage of meters'.
Source: www.thenewindependentonline.com