Story by: Ishmael Barfi
The Minister for Local Government, Digitalization and Rural Development, Hon. Daniel Kwaku Botwe has called on local assemblies to make it easier for laws enacted to be obeyed.
The Honourable Minister made this call during a field tour to the Accra Compose and Recycling Plant (ACARP) and the Mudor Faecal Treatment Plant on Friday, 1 April, 2022.
The tour is carried out periodically by the Ministry of Local Government, Digitalization and Rural Development to inspect work being done so far at the plant, in line with the management service agreement signed between government and Jospong Group of Companies (JGC) in 2012.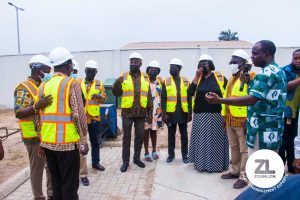 Speaking to the press after his familiarization tour, he was of the view that, there is the need to have more transit stations to ease the movement of these waste collected.
And explaining that, local Assemblies in partnership with service providers should make it easier for laws to be obeyed hence the need for more transit stations for waste collectors such as the tricycle, popularly known as 'Abobo Yaa' to dump off waste collected from various homes before finally conveying them with big trucks to the waste treatment sites.
This he believed will minimize indiscriminate dumping of waste at unauthorized points.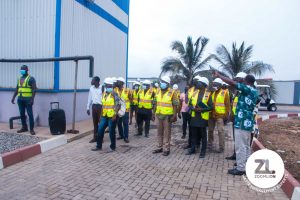 "…it is not enough to say that we have passed laws and if any one disobeys will be arrested, well you can do that but make it sustainable because the enforcement of Bye – Laws is under the assemblies", he stressed
Honourable Botwe reiterated the need to encourage others to get into this type of job in order to manage waste better and improve human lives.
He questioned "If the waste we generate was not gathered at one point for treatment then what will become of human life?"
Against this backdrop, He lauded the waste management company for work done so far and for installing modern machines which have replaced old ones that had been used for decades.
He appealed to the company to collaborate with Parks and Gardens as part of their social responsibility, in order to provide them with compose for planting in an effort to beautify the environment and in greening Ghana.
The Sector Minister first point of call during his field tour with the technical team of the Ministry was the Mudor Faecal Treatment Plant situated close to the sea at Jamestown, Accra.
And his next visit was the Accra Compost and Recycling Plant (ACARP) located at Adjin Kotoku, all in the Greater Accra Region.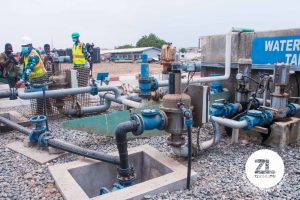 The two facilities visited by the Sector Minister are subsidiaries of the Jospong Group of Companies (JGC) and built and managed by Sewerage Systems Ghana Limited (SSGL), a member of the Jospong Group of Companies.
Speaking at the sidelines of the Sector Minister's visit to Mudor Faecal Plant, the Head of Process Engineering at Sewerage Systems Ghana Ltd, Engineer Eric Amofah Sarkodie appealed to the Ghanaian populace to stop dumping solid waste into their septic tanks.
He said the mixing of solid waste with sewerage that comes to the site causes damage to their machines and a huge financial lost as about Ghc25, 000 is paid every month to solid waste lifters to carry the waste to landfill sites.
On her part, the General Manger for Private Sector Business, Ms. Lola Assiedu Ashitey advocated on the need for more Treatment Plants across the sixteen regions.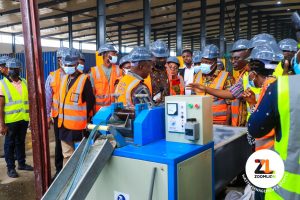 She noted would ensure that liquid waste from homes are carried to the right places for easy disposal.
She therefore urged the general public to" manage their pumps very well so that it can maintain it's lifespan, because people are dumping things other than liquid waste into their septic tanks".
Sewerage Systems Ghana Limited (SSGL), a fully owned Ghanaian company is an Engineering and Construction Company with focus on the provision of efficient liquid waste treatment.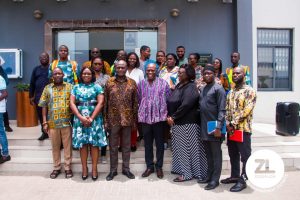 Since its establishment, SSGL has built two new faecal treatment plants (Lavender Hill Faecal Treatment Plant – Near the Korle Lagoon and the Kotoku Faecal Treatment Plant – Adjen Kotoku) and rehabilitated the Mudor Sewerage Treatment Plant also at James Town.
Source: www.thenewindependentonline.com