Story by: Ishmael Barfi
The government of Ghana has been called upon to put effective measures in place to utilize the gas sector.
According to Dr.Steve Manteaw, Convenor for Civil Society Platform for Oil and Gas, now that gas has been considered as a renewable and clean source of energy, it is prudent as a country to revaluate it's position in respect to Climate change.
To him, it is time for developing countries like Ghana to strategically position itself and invest in the gas sector with the aim of raking in revenues to boost the economy.
" It is important we play a critical role in the realization of the gas transition as a country", he stressed.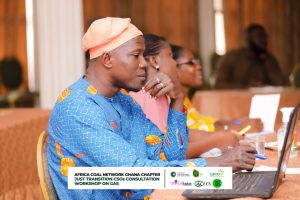 Dr. Steve Manteaw made these remarks at the Just Transition CSOs Consultation Workshop on Gas organized by Africa Coal Network Ghana Chapter.
Africa Coal Network is an effort to strengthen struggles that put an end to further development of the coal industry and to intimate a just transition towards Renewable Energy.
The Just Transition  CSOs Consultation workshop on Gas brought together Civil Society Organizations in the Oil and Gas sector to discuss the way forward on Gas and it's impact on Climate change as well it's benefits to the economy and people at large.
In his presentation, Dr. Manteaw  was of the view that, developing countries including Ghana should ensure the full utilization of Gas discovered in their countries.
Adding that, it should be wholly be owned by the people for the people than always allowing expatiate to be the managers of the Gas.
This he noted has not helped in developing the sector as well as generating the needed revenues to boost it's economy not to talk of job creations for it's citizenry.
"We should not do what the developed countries like USA tell us to do but we should do what they do", he emphasized.
This he said has have negative effect on developing countries citing that, these developed countries have benefited from the Gas sector that, they classify it as a clean renewable energy.
Therefore urged leaders of developing countries to invest adequately in the Gas sector to unearth it's full potentials and riches.
However, he called for conscious efforts in the process of the utilization of the sector not to over abuse it.
To that respect, he tasked the Civil Society Organisations to intensify their advocacy to push governments and relevant agencies to seek the best interest of the citizenry than the interest of the developed countries.
The onus the explained lies on these CSOs to also engage the citizenry on why the need to fully utilize the Gas sector as well as educate them on its relevance and benefits the country stands to gain.
He noted that, "Although the generally accepted ultimate goal is to replace fossil fuels entirely, there is a strong case for starting by replacing with natural gas, especially for baseload-generating capacity".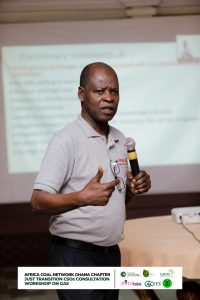 Although Africa is home to almost a fifth of the world's population, it accounts for only 4 percent of global electricity consumption.
While electricity is nearly universal across North Africa, fewer than half of sub-Saharan Africans can access electricity.
Therefore, African policy-makers face a challenging dilemma: Bridging Africa's energy deficit is crucial to the economic well-being of the continent and its people. Yet the impacts of climate change are likely to fall more heavily on Africa than other global regions.
Source: www.thenewindependentonline.com