Story by: Ishmael Barfi
In efforts to enhance its services to its customers, the Ghana Water Company Limited (GWCL) has officially outdoor it's Customer App at it's media briefing and exhibition at its head office in Accra, Ghana.
The media briefing and exhibition which also saw the launch of the Operational Guidance on Water Supply Plans for a roll-out in all it's operational regions was under the theme: "Accounting to our Customers".
Disclosing this to the media, the Managing Director of GWCL, Ing. Dr. Clifford Abdallah Braimah explained that, his outfit had started a technology drive and the the Customer App is the starting point.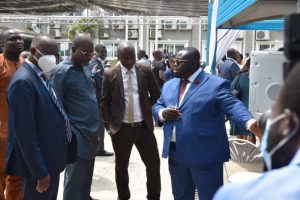 This App he said  is to enhance customer interactions as well as ensure visibility of GWCL to its clients across the country
The Customer App offers customers the opportunity to report all complaints and to monitor its progress, allow customers to make payments at their convenience, and allows customers to generate their bills and statements in their comfort zones.
Speaking further, he noted that, the company in 2017 where the electronic payment platform was introduced for transactions yielded a revenue of GH₵1.7million, increased in 2018 to GH₵13.2 million in 2018 whiles in 2021, revenue generated rose to GH₵64.3million representing (387.5%).
Currently, he said monthly average revenues realised from electronic payment stands at GH₵9.3 million and is expected to rise to GH₵11.1 million by the end of 2022.
As at the 2nd quarter of 2022, he disclosed that revenues from electronic payment constituted 10.4% of GWCL's total collections from water bill payments.
In the wake of the Electronic levey on transactions, he emphasized that, "It is pertinent to note that, payment of water bills using any of our electronic payment platforms does not attract the electronic levy (E-Levy).
is therefore expected that, in the long run, this payment option will become the most preferred by customers," he added.
Touching on the strength of the company, Ing. Dr. Clifford Abdallah Braimah revealed that, currently the  staff strength is 5,280 nationwide adding that, "we have enjoyed a peaceful working environment, devoid of industrial unrest from 2017 to date".
This he said can be attributed to prompt response to the needs of staff and proactive engagement with the Staff and the Union leadership.
"The peaceful work environment we are currently enjoying has sustained our operations and commercial drive", he acknowledged.
To enhance and ensure efficiency, he indicated that, management has organized training courses for more than two thousand (2,000) staff across the country in different categories in various capacity development programs.
"Management, with the support of the Staff Unions, conducted promotional interviews in 2018, 2019 and 2021. More than two thousand (2,000) staff were promoted during these periods", he noted.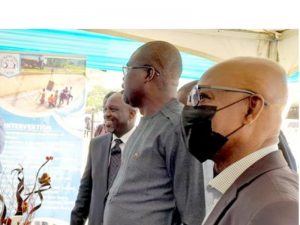 Adding that, such successive promotions were necessitated by the need to fill some critical vacancies and to resolve some petitions surrounding unfair treatment.
On customer strength, Ghana Water Company Limited (GWCL) currently has over 860,000 customers constituting Private and Government customers.
This figure represents a 37.2% increase compared to the customer strength as at the end of 2017 (639,322). On the average, 5,320 customers are added to the customer base every month.
Currently, 90.3% of customers have been metered, representing a 12.6% increase over that of the 77.7% figure for 2017. There are 101 districts across the regions.
Peaking of challenges, GWCL has encountered numerous daily challenges that affect its operations in its quest to deliver quality services to customers. Salient among these challenges witnessed over the years are:
· Illegal mining activities, sand winning and pollution of river bodies causing high turbidity and increasing treatment and production costs,
Frequent power outages leading to disruption in water supply and damages to equipment and machinery at some water production centres,
· Vandalization of transmission pipelines and distribution mains by road contractors and road users resulting in pipe bursts and leakages,
· Water thefts of all forms e.g. illegal connections & meter by-passes that contribute to unaccounted for water hence reducing sales and revenues, and
· Building on pipelines and encroachment on utility reservations by some communities. An example is the Weija Treatment Plant catchment area.
In the face of these challenges, the Managing Director hinted that, there are some accomplishments that need to be acknowledged.
They are as follows:
· We have replaced and installed pumps of various types in most of our headworks to increase production to meet the demands of our customers.
· Bulk and commercial meters are being replaced to enhance accurate reading and billing.
· We have achieved 99% compliance to the 6 key operational water quality parameters namely: pH, colour, alkalinity, turbidity, residual chlorine and bacteriological analysis.
· To meet the continuous demand for water and resonate with the Sustainable Development Goals (SDG)6 of ensuring water access for all by 2030, GWCL is expanding several water treatment plants and constructing new ones.
· GWCL is extending distribution mains in all the regions to increase water supply.
"These encouraging results amidst all the challenges is an indication that the company is on track", he asserted.
Source: www.thenewindependentonline.com