Story by: News Desk
In efforts to enhance its developmental works in it's field of operation in Ghana and globally, one of the result oriented Civil Society Organisation in the Climate Change space, Strategic Youth Network for Development (SYND) has appointed Dr. Jones Adu-Gyamfi, a Lecturer at the  University of Ghana and Lotte Westerman, an Independent Consultant at KFW Development Bank as it's Board Chair and Vice Chairpersons respectively.
Their appointments was announced at it's maiden Board Meeting held on Tuesday 13th September 2022 in Accra, Ghana.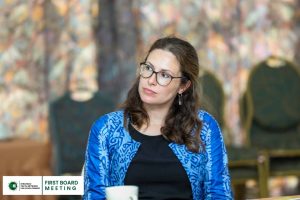 PICTURE OF CHAIR & VICE
The other Board Members include Oko Nerquaye-Tetteh, a Career Educationist and an Education & Management Consultant, Belinda Norvihoho, a Legal Practitioner, Selina Zefo Kere, Ghana Revenue Authority), Beverly Okoye, Climate Attaché and Illegal Wildlife Trade Adviser, Ghana & West Africa – British High Commission who would serve as an Advisor to the Board and Chibeze Ezekiel, SYND Executive Coordinator.
At the meeting, Chibeze Ezekiel provided a background information on the organisation including the history, approach to work, organogram, thematic areas of work, current programmes, partners and key activities for the rest of the year. The Focal Points of the four thematic work areas of SYND notably Climate Change, Biodiversity, Forestry and Energy Access provided an overview of their respective projects to the Board.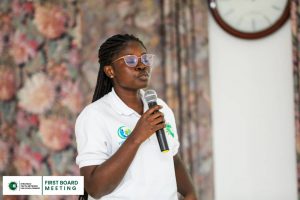 Patience Agyekum, Focal Point on Climate Change and Policy Team Lead spoke on Children for Climate Action (C4C) campaign, Youth in Natural Resources and Environmental Governance (Youth-NREG) Platform.
The rest are Parents for Future (PFF) Movement – Ghana, Climate Finance, Action for Climate Empowerment (ACE), Climate Vulnerable Forum (CVF), Development of Youth Strategy for Climate Action in Ghana among others.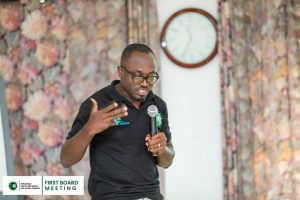 Solomon Yamoah, the Focal Point for Forestry touched on the Ecocide campaign, SDG 15 Targets campaign, EcoMint Forest Restoration project among others.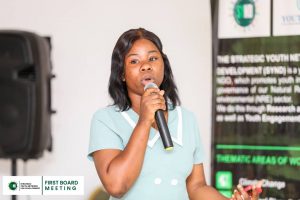 Priscilla Adogo Ahiada, Focal Point on Energy Access also outlined activities on Clean Cooking, the Young Green Entrepreneurs programme, Energy Efficiency and Just Transition (Oil & Gas).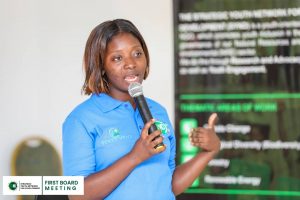 Gifty Elikplim Agbenyefia, Focal Point on Biodiversity and Team Lead on Communications touched on the 'Banks and Biodiversity No Go Policy' campaign, biodiversity conservation activities as well as how the Communications team is organised and functions.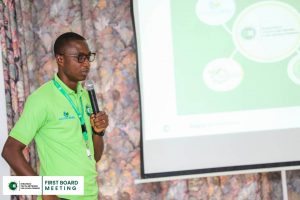 Key decisions taken were:
The adoption of the draft Human Resources, the 2021 Audited Accounts and Financial & Accounting Manuals pending the finalisation of the documents based on the comments or inputs by the Board.
Two Standing Committees were constituted which are, the Finance Committee chaired by Selina Zefor Zere and the Programmes Committee chaired by Oko Nerquaye-Tetteh.
About SYND 
SYND is a youth-oriented NGO that promotes youth inclusion in the governance of the Natural Resources and Environmental (NRE) sector.
Source: www.thenewindependentonline.com