Story by: Ishmael Barfi
A breast cancer survivor has reiterated that, one can live a normal and fulfilling life after early diagnosis and treatment.
According her, being diagnosed of breast cancer should not to shatter one's beautiful life hence, depression and worries which most often leads to early death.
Stressing that, after early detection, it is importance for one to seek for early diagnosis, treatment and adherance to treatment among other personal healthcare.
Georgina Dzigah, a breast cancer survivor made these statement at the official launch of Sonotech Breast Cancer Awareness at it's West Hills Mall branch in Accra.
October is Breast Cancer Awareness Month, which is marked in countries across the world, and helps to increase attention and support for awareness, early diagnosis, and treatment as well as palliative care for women facing cancer.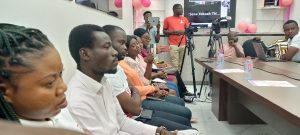 This year Breast Cancer Awareness is under the theme: " Time to Rise", hence time to mobilize more resources to embark on public sensitization, screening for early detection to seek for treatment among activities aimed to save the lives of women.
According to researchers, early-stage breast cancer patients have comparable survival rates when treated in the early stages.
Telling her story, Mrs. Georgina Dzigah recounted how she least expected to detect cancer in her breast at the age of 30years in the year 2017.
To her, lack of knowledge with regards to breast cancer nearly cost her, her life explaining that, she least expected it at that young age.
Adding that, "I had plans and ambitions that, I did not realize any changes in my breast until I started experiencing sharp pains and feeling of lump in my right breast".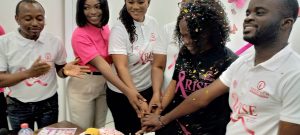 "I felt the alarm and under normal circumstances if I had known, I would have resorted to report to the nearest clinic but then, as I said, I was ignorant, so I stayed home for almost three months", she said.
Staying home, she revealed that, she was massaging the affected breast with all kinds of things with the hope that, it would be ok.
However, the breast continued to grow bigger that, the pains became unbearable, hence had to visit the hospital.
Therefore urged every woman to always examine her breast to identify any changes and report to the hospital for screening and treatment.
Citing her experience, she explained that, the results from the numerous reports made her very sad and worried because she was very young, had a baby and a family to cater for.
"….life just came to a standstill because of breast cancer and I kept asking myself, so Amanda is going to die like that, would I have the strength to go through all the required treatments?", she recounted.
Adding that, "Honestly, I was confused and very sad because financial wise, I was asking myself, would I be able to afford".
Though it was difficult, she expressed her gratitude to Sonotech Medical Center and all the doctors that encouraged and ensured that, she came out much stronger and healthy to continue to live a normal and interesting life as well as continue to be a mother and a wife to her children and husband respectively.
Breast Cancer Awareness: 'There is Life after Diagnosis & Treatment- Survivor Urges
"I am here to the glory of God, I was able to go through all the treatments; i had two surgeries. Initially I had a lumpectomy surgery, went on to have radiotherapy. I had chemotherapy as well as lost my hair temporary. And as I sit here I have only one breast but I'm happy", she said.
Mrs. Georgina Dzigah excitingly stated that, after going through the numerous surgeries and treatments, she no more feels sad because "all those things are there to help us to survive, to give us some time to be there for our children, husbands, for parents, and also give back".
"…And that, there is no evidence of the disease in my body now. I'm not on any active treatment. And when you ask me how life is after that, I would say I am a healthy person and very positive that I'm going to live because I mean it has changed my life and made me to be more health conscious.
Adding that, "So yes, there is life beyond breast cancer, I'm living a full life and I'm functioning completely very well as a wife, as a mother, a mother of six children. I have a full time job".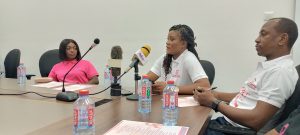 Speaking at the Launch, the representative of TNYou, madam Sena anchored the call by Mrs. Georgina Dzigah that, there is live after breast cancer.
Therefore urged women to regularly examine their breasts and be quick to report any changes to the hospital for early detection and treatment  avoidance of loosing a breast.
She also reiterated the theme: " Time to Rise", indicating that, it is time women seek the welfare and wellbeing especially their breast since it plays a critical role in caring for babies and sensitive part in marriage.
Sonotech Medical Center is a legally registered privately owned Ghanaian company offering 24 hours clinical and medical diagnostic imaging services with modern facilities with three branches in Osu-Danquah Circle, Community 9 in Tema and inside the West hills Mall at Dukonah near Weija, off the Accra – Kasoa highway.
Sonotech offers clinical, diagnostics and pharmacy services in all branches managed by highly skilled and motivated health professionals and well recognised specialists in various medical field.
Source: www.thenewindependentonline.com