Story by: William Sarpong
Dophil Roofing Systems, a subsidiary of the Dophil Group and a fast growing company in the roofing industry established in September 2010, has introduced its new product "Ecophil Roofing Tiles" at the just ended 5th Ghana Green Building Summit 2022 held in Accra.
The Company corrugate, estimate and install Aluminum and Aluzine roofing sheets among others. Their passion and professionalism in installation brings out an outstanding beauty in any building in the company's care.
Ecophil Roofing Tiles is environmental friendly and does not pose any health hazard during production and use.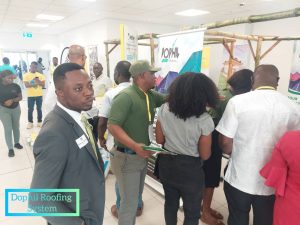 It also addresses the challenges of corrosion of products along the coastal communities likewise, promote the use of recycled plastic waste.
The new product which is a mixture of plastic waste and sand provides alternatives to high cost of other roofing materials and products.
Among the benefits of the new product comprises low in price, longer life span of 20 to 60 years, resistant to aggressive weather conditions, lightweight and easy installation, good temperature regulator and low heat conductivity etc.
The Sales Executive for Dophil Roofing Systems, Mr. Benard Mensah Adelashie in an interview at the exhibition center expressed the company's gratefulness for being part of 2022 5th Ghana Green Building Summit 2022 saying, Ecophil Roofing Tiles has come to stay in Ghana.
He averred that, Dophil Roofing Systems is one of the best roofing company in the country and called on all Ghanaians and those in abroad to have a feeling of what the company is doing.
The entire country Adelashie revealed, is full of plastic waste, thus "And so, as a company we have been thinking about turning the plastic waste to help the system in a way and so, this is why Dophil has taken upon itself to come out with this innovative, to transform plastics with sea shore sand into what we see today".
Mr. Bernard Mensah Adelashie said, getting the raw material for production is not a challenge because it can be found everywhere in the country.
Ecophil Roofing Tiles product according to him, can stand the weather condition of Ghana adding that, it is affordable, heat resistant as compared to the traditional roofing system and recommend to hospitals, churches, new industries, and small homes.
Funding and Government support he stated, are among the challenges confronting the company and appealed to individuals, corporate bodies and Government institutions to join hands with the company saying, they are available to even partner Government in the 1D1F.
Dophil Roofing Systems have a commitment not only to provide roofing needs but also, to execute work with integrity and accountability hence, building a strong relationship and goodwill with clients.
Source: www.thenewindependentonline.com