Story by: William Sarpong
The Executive Director for Ghana Blind Union, Dr. Peter Obeng has disclosed that, the provision of white canes with the requisite training for the blind is the first step towards a meaningful future and full inclusion in the society.
He made this known during an address at this year's International White Cane Safety Day held in Accra.
The white cane Dr. Obeng mentioned, is not just a tool that can be used to achieve independence, but also a symbol of the blind citizens in the society.
According to him, the white cane has proved itself over the years as a reliable guide,  which allows the independence of movement and subsequently independence of a blind person.
"Between 2021 and this year 2022, GBU in spite of the harsh economic situation we all know about, was able to supply over 2,500 white canes to blind persons", Dr. Obeng disclosed.
"However, this is not enough to meet the demand of this crucial mobility tool but believes with support from the society, collectively, a lot can be done".
He therefore appealed for more support in this direction for persons who need the facility but unfortunately cannot afford it.
He noted that, with proper training, users of the white cane can enjoy greater mobility and safety by determining exactly where and when they want to go adding that, the white cane has provided them the freedom to travel independently to their schools and workplaces as well as participate more fully in the life of their communities and society as a whole.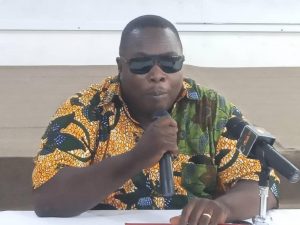 "It reminds us the only barriers against people with disabilities are discriminatory and negative social attitudes, primitive customs, mind-sets, ignorance, pity and stereotyping to mention a few. These are the barriers that our society has too often placed in the way of its blind Citizens and this day, even as we focus on the importance of the White Cane, its time as a nation to accommodate blind and partially sighted members", he noted.
Dr.Peter Obeng however revealed that, the blind and partially sighted persons, have the potential to contribute their quota towards national development if given the necessary back up, recognition and encouragement.
"This kind of environment enables people with disabilities to recognise and understand the important roles they can play at the local level, to compliment national development".
"Let me take this opportunity to appeal to all well-meaning persons to support the "White cane for all" project being embarked upon by the GBU", he passionately said.
Source: www.thenewindependentonline.com