Rev. Wegman presenting a gift to President Akufo-Addo 
Story by: News Desk
The President of the Republic, His Excellency Nana Addo Dankwa Akufo-Addo has been commended for steering the affairs of the country during difficult times.
The General Superintendent of Assemblies of God, Ghana Rev. Stephen Wengam  who commended the President indicated that, the President and his government has performed well and manage the economy of the country well citing COVID-19 and currently the economic challenges.
He lauded the President for his bold initiatives such as the Free SHS, Planting for food and jobs and the National Cathedral, and further urged the government to do more to alleviate the suffering of the people.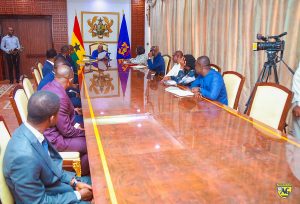 Rev Wengam made these reservations when he led some officers and members of the Executive Presbytery of Assemblies of God Ghana to call on the President.
Rev. Wengam used the visit to brief the President on the global and national impact of Assemblies of God.
He touted the global membership of Assemblies of God, which is 70 million as the largest Pentecostal denomination in the world.
In Ghana, Assemblies of God has a membership of 600,000, 6000 churches and 3800 pastors. Rev. Wengam told the President, that members of Assemblies of God are in every area of Ghana's national life with a number of them in the current government.
Assemblies of God has also contributed significantly to the socio-economic life of Ghana, especially health and education by building hospitals and schools.
President Akufo Addo congratulated the General Superintendent and his team, and thanked them thanked him for their encouragement. He requested for more prayer for the nation.
Rev Stephen Wengam and his team were at the Presidency, to introduce the new leadership team of Assemblies of God, Ghana to the President. It was also to deepen church-state relationship and to discuss matters of national development.
Source: www.thenewindependentonline.com