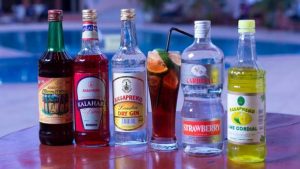 Story by: Ishmael Barfi
Vision for Alternative Development-Ghana (VALD- Ghana) is urging the Parliament of Ghana to urgently consider the passage of the Excise Duty Bill currently before the house to reduce the increased Non Communicable Diseases cases especially cancer.
According to VALD-Ghana, excise tax on health harming products also increases the government revenue substantially and unlock fresh resources for investment in health promotion and disease prevention.
"There has never been a better time for an ambitious approach to protect societies from cancer caused by alcohol, like now", It said.
This was contained in a press release issued by Vision for Alternative Development-Ghana (VALD-Ghana) on 6th February, 2023, in Accra, signed by Labram M. Musah, the Executive Director of Programs, Vision for Alternative Development and copied to www.thenewindependentonline.com.
According to the release, the alcohol industry over the years have lied about health impact of their products which exposes everyone including children and young people, to the second leading cause of cancer.
"The world can't allow this to continue, this goes to politicians- Time to ACT is NOW", the release reiterated.
Therefore "We call for urgent actions to prevent more cancer cases and deaths caused by Big Alcohol".
Alcohol, like tobacco according to VALD is a carcinogen; causing seven types of cancer and the second leading cause of death globally adding "This truth can no longer be hidden by Big Alcohol".
To champion this cause, The Vision for Alternative Development (VALD-Ghana), the Ghana NCD Alliance (GhNCDA), Community Health Support Team (CHEST), and other Civil Society Actors in Ghana has joined forces with Movendi International, on the 'Be Loud For Change' campaign to highlight the challenges posed by alcohol use, advocate for policies and laws, expose the industry, and increase public awareness regarding the link between alcohol and cancer especially among politicians and decision makers as the world marks World Cancer Day.
Since 1988, the International Agency for Research on Cancer has classified alcohol as a Group 1 carcinogen, the highest level of risk.
Furthermore, growing evidence suggests that alcohol increases the risk of several types of cancer including breast, bowel, prostate, and liver, and accounts for a significant proportion of preventable cancers (American Association for Cancer).
Despite ample evidence of this relationship, public awareness the release noted is low nationally and at the global level.
This can be attested to World Health Organization (WHO) report which indicates that, alcohol consumption contributes to 3.3 million deaths each year globally as well as to the disabilities and poor health of millions of people– many of them living in low- and middle-income countries.
Despite these scientific findings, the alcohol industry continuously to keep people in the dark about the fact that their products are as carcinogenic as cigarettes.
"They thus, fight ferociously against scientific studies, against Ireland's democratically decided cancer warning labelling, and against other alcohol policy initiatives and interventions", the release stated.
The release further revealed that, in a recent publication, WHO has said that No level of alcohol consumption is safe for our health and that it is the alcohol that causes harm, not the beverage.
However, Vision for Alternative Development commend the Ministry of Health and the Food and Drugs Authority for regulating and restricting alcohol advertisements on TV and radio from 6am – 8pm as well as the ban on well-known personalities and celebrities from featuring in alcohol advertising.
"Though this remarkable directive by the FDA has raised high the profile of Ghana globally, and have been widely acknowledged for implementing one of the Best Buys of the WHO, they need to work rigorously towards adopting the national alcohol regulations for a more holistic approach in addressing the harm of alcohol use" it emphasized.
To materialize this, the release indicated that, "there are lots of proven solutions at the disposal of our politicians and decision-makers to bring about change".
Some they elaborated is the development of alcohol taxation systems that will effectively protect people, especially children and the youth from alcohol harm, including cancer.
"Our politicians can also place warning labels on alcoholic products informing about cancer, heart disease, and other alcohol harms".
In addition, interventions targeting the price of alcohol, through a higher tax and alcohol floor price, are estimated to yield the greatest health impact by reducing the number of new related cancer cases.
When this is done, VALD believes that, demand for disease treatment will fall leading to a reduction in costs and an improvement in the financial sustainability of the health system.
VALD also proposed the funding of mass media campaigns to increase public recognition of the real harm due to alcohol and ultimately ban alcohol advertising, sponsorship, and promotion.
"A recent Australian study found that, pairing a TV advertisement on alcohol's cancer risk with information about a method on how to reduce alcohol use resulted in real reductions of alcohol consumption".
VALD also lauded the Minister for Finance, Honorable Ken Ofori-Atta, for stipulating an Increase excise tax rate for spirits above that of beer in the 2023 Budget Statement read in Parliament on 24th November, 2022.
Vision for Alternative Development (VALD) called on the general public and other stakeholders to continue to 'Be loud for change'.
Source: www.thenewindependentonline.com