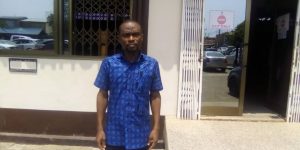 Report by: Ben LARYEA
The Bible Society of Ghana (BSG) says fervent preparations and inputs are being made to produce a sign language Bible for hearing impaired people due to their inability to have access to the scriptures.
According to the Society, the Bible have been translated into nine Ghanaian local languages and currently working to translate the Bible into Efutu-Senya, Bono and Okere languages as part of the effort to make the Word of God available to the Christians across the country.
Consequently, the Society have plans of translating also the Bible into Larteh and Wassa local languages.
Pastor Ignatius Awuley Addico, the Bookshop Officer of the Society made the announcement on behalf of the General Secretary of the Bible Society of Ghana, Very Rev. Dr. John Addo Jr. during the Bible Week celebration at the Evangelical Presbyterian (EP) church, Bethel Congregation in Accra.
The Very Rev. Dr. Addo added that the Society has initiated steps to translate the Bible into all local languages hence the Society is calling on corporate bodies, benevolent societies, philanthropists, individuals among others to support the Society in the translation process, adding that the gesture will afford Christians the convenient to read and study the Bible in their local language.
He therefore urged the public particularly the Christian community to support the Society to exhibit its core values and mission in reaching out to Christians with the gospel and thanked all for their continuous support for the respective translations.
Very Rev. Dr. Addo expressed his heartfelt gratitude to Evangelical Presbyterian (EP) church for participating in the weeklong celebration which includes symposium, Bible reading and Quiz, Commission of a retreat centre in Kitase in the Eastern Region, among others.
The Immediate Past Presiding Bishop of the Methodist Church, Ghana, the Most Rev. Titus Awotwi in a sermon titled, "God's Unchanging Word: Hope for All", urged Christians to allow the gospel to challenge them by practising a holy and righteous life saying that such faith will enable them meet Christ in paradise.
"God's Word is alive and full of divine power which transforms humanity", he said and urged believers to accept the Word of God which is unchangeable and will continue to guide and protect humanity.
He thus urged Christians to support the good works of the Society to enable them translate the Bible into the various Ghanaian languages across the country.
Source: www.thenewindependentonline.com