Report by: Ben LARYEA
Cote d'Ivoire Inter-ministerial delegation as part of the effort to monitor and share information on the pollution of water bodies mainly caused by illegal small scale mining on transboundary river basins have paid a working visit to the Weija Water treatment plant in Accra.
The gesture is to have first-hand information on policies, measures and mechanisms that the government and Ghana Water Company Limited have rolled out to prevent water bodies from been polluted by human activities and illegal mining activities.
In an address, the Minister of Sanitation and Water Resources, Madam Cecilia Abena Dapaah said water is an important resource to humanity and to the world at large.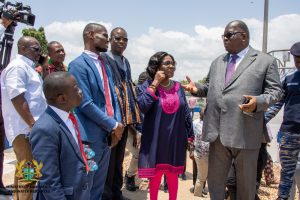 Water she added, is very essential to human wellbeing and ties into the Sustainable Development Goals (SDG 6) which brings to the fore clean water for all.
She said the Weija water treatment plant is a strategic facility which serves close to 2.5 million people of the Western part of the country hence the plant is solely under government operations as well as assets and facilities.
"It produces the bulk of urban water and hugely subsidised by government", she said, and thus commended also Non-Governmental Organisations (NGOs) for their efforts towards the provision of potable water to many parts of the country and explained further that institutions as part of their Corporate Social Responsibility (CSR) have contributed tremendously in the provision of water delivery across the country.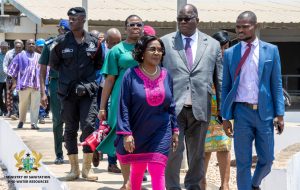 Throwing more light on Community Water and Sanitation Agency (CWSA), the Minister said they have served primarily in the rural communities as well as peri-urban areas.
According to her, government have put in place a comprehensive framework to project the country's vision of providing water for all to enable the citizenry to easily have access to clean and potable water.
The Head of the Ivorian delegation and Minister for Water and Forests, Hon. Laurent Tchagba commended government and officials of the Ghana Water Company Limited for swiftly addressing the challenges of water pollution due to illegal small scale mining.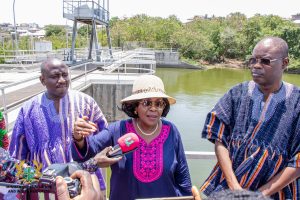 According to him, both countries will continue to share knowledge and information on water resources, mining and environmental issues and ensure periodic visits and cooperation to advance the course of water management and resources of Ghana and Cote d'Ivoire.
For his part, the Managing Director of Ghana Water Company Limited (GWCL), Dr. Clifford Braimah said his outfit have revamped the water facilities across the country as plans are far advanced to expand water facilities and treatments plants across the country.
Source: www.thenewindependentonline.com