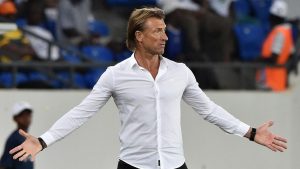 Source: myjoyonline.com
Hervé Renard has left his role as coach of Saudi Arabia's national team amid reports he is set to take over France's women's national team.
Yesterday, the Saudi FA said it had agreed to terminate Renard's contract, ending a four-year spell in charge. His tenure was highlighted by a win over eventual champion Argentina in the group stage of the World Cup in Qatar last year.
The 54-year-old former Black Stars physical trainer, did not announce his future plans but he thanked the Saudi people and said he was "very proud to have been able to show to the world the progress and a good image of Saudi football."
"It's time for me to fly to an other horizon but with (these) memories engraved in me," Renard wrote on Twitter.
In a video message posted on the Saudi team's Twitter page, Renard reflected on the win over Argentina by saying: "I think it will stay forever in the memory of the Saudi people."
"This experience was amazing, with a lot of support," he added.
Reports in France have said Renard is in line to coach the French women's team at this year's World Cup, which kicks off in July in Australia and New Zealand.
Source: myjoyonline.com