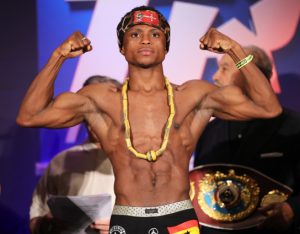 Source: www.myjoyonline.com
Green Sports Academy has released a statement wishing Isaac Dogboe the best of luck in his upcoming WBO featherweight title fight against Robeisy Ramirez in Oklahoma, USA on Saturday April 1.
Dogboe is seeking to make history by becoming only the third Ghanaian to win a world championship in two different divisions, having previously held the WBO super bantamweight title.
Dr Donald Agumenu, the president of Green Sports Academy, expressed his excitement for Dogboe's upcoming fight and his admiration for the boxer's dedication and hard work.
"We are thrilled to see Isaac Dogboe back in the ring, and we believe that he has what it takes to come out victorious in this fight," said Dr Agumenu. "Isaac is an incredible athlete who has shown immense dedication and perseverance throughout his career. We are confident that he will make Ghana proud once again by bringing home another world championship title."
Green Sports Academy is committed to supporting and promoting Ghanaian athletes on the international stage, and we are proud to stand behind Isaac Dogboe as he takes on this new challenge.
We wish Isaac Dogboe all the best as he prepares for his WBO featherweight title fight and look forward to celebrating his victory with the rest of Ghana.
Source: www.myjoyonline.com