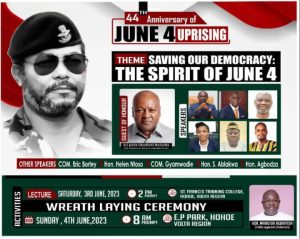 Source: https://expressnewsghana.com
The Hohoe Municipality of the Volta Region will host the 44th June 4th, uprising on Sunday, June 4, 2023.
A statement issued and signed by the regional communication of the National Democratic Congress (NDC), explained that the event would be preceded with a wreath laying ceremony on Saturday, June 3,2023.
Below is Full Statement
THE VOLTA REGION HOSTS THIS YEAR'S JUNE 4TH CELEBRATION IN HOHOE
The Volta Region will be playing host to this year's June 4th Celebration, which is the 44th since its inception, and it is scheduled to take place in the Hohoe Constituency.
The program will commence on Saturday June 3rd with a health walk in the morning and subsequently a public lecture at 2:00pm at the campuses of the St. Francis College of Education (FRANCO).
The memorial event will be climaxed the next day Sunday 8am with a wreath laying at the E.P park in Hohoe.
This year's program is under the theme: "Saving Our Democracy: the Spirit of the June 4th".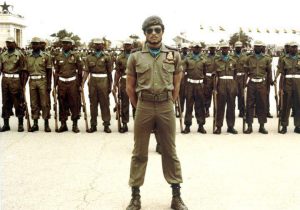 The Special Guest of Honor for this year's celebration is H.E. John Dramani Mahama, Former President and Flagbearer of the NDC. Other distinguished Guests and Speakers include Hon. Hudu Yahaya, H.E. Dan Abodakpi, Hon. Johnson Aseidu Nketiah, the National Chairman, Hon. Fifi Fiavi Kwetey, the General Secretary, Hon. Mawutor Agbavitor, Volta Regional Chairman, Hon. Governs Kwame Agbodza, MP for Adaklu and Minority Chief Whip, Hon. Emmanuel Kwasi Bedzrah MP for Ho West and Regional Caucus Chairman, Hon. Samuel Okudzeto Ablakwa, MP for North Tongu, Hon. Helen Adjoa Ntoso, MP for Krachi West, Hon. Dr. Zanetor Rawlings, MP for Klortey Korley, Comrade Shine, Comrade Gyamwodie Comrade Eric Bartey and Hon. Worlanyo Tsekpo, the Parliamentary Candidate for Hohoe.
June 4th is an annual event prominent on the NDC's calendar, celebrated to mark Ghana's 1979 Revolution meant to awaken the conscience of the Nation and imbibe in the citizenry the principles of probity and accountability.
We are by this release, calling on the general public to join the NDC and actively participate in this historic event in Hohoe.
Signed:
Sorkpa K. Agbleze
(Volta Regional Communications Officer)
Source: https://expressnewsghana.com