Story by: Ishmael Barfi
Girl Education have been described as an essential tool to fight the numerous Adolescent Sexual Reproductive Health issues  they face.
According to Mr. Faisal Bawa, the National Programme Analyst at the United Nations Population Fund (UNFPA), the more girls stay in school, the more they delay issues of pregnancy, child marriage among other reproductive health issues.
"The more girls become educated and informed, the more they're able to say that No, I want to stay safe. I want to do this. And that before, I think of having my family issues", he reiterated.
He explained skills training, economic opportunity, and education for girls has over the years worked in the quest to empower young girls and fight against teenage pregnancy and child marriage.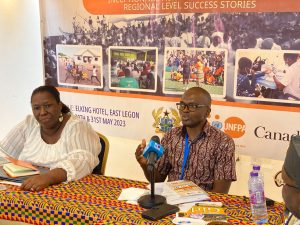 Therefore he commended the Purim African Youth Development Platform (PAYDP) for their adolescent girls programme that have empowered thousands of young girls especially in the rural communities who have take charge of their lives and making meaningful impact in their families, lives and communities
Mr. Faisal Bawa made this remarks at PAYDP Stakeholders meeting for the Inception/Impact session to document Regional Level Success Stories held on 30th-31st May, 2023 in Accra.
The two-day PAYDP Inception/Impact Session to Document Regional Level Success Stories was to interact with beneficiaries of the project and how the project has impacted their lives as young girls and the community at large.
In furtherance, National Program Analyst at the United Nations Population Fund (UNFPA),Mr. Faisal Bawa was of the view that, documenting such exciting and life changing stories of these girls is a way of motivating and encouraging other girls.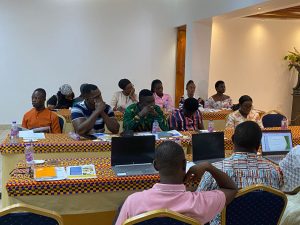 This he said are stories that needs to be told to the donors, and other stakeholders to ensure more funds are allocated for other phase of the project.
To him, he feels excited and happy to know that, most of the girls who have benefitted from the United Nations Population Fund (UNFPA)-UNICEF program, 'adolescent girls program' have gone back to school, some are using the skills acquired to make a living among other meaningful activities.
"And these are the stories that we need to sell. So that when we are coming up with another phase of the project, we know that yes, when we did this the last time it worked. So let's do it again", he noted.
On her part, Rev. Aku Xornam Kevi Executive Director of Purim African Youth Development Platform (PAYDP) explained that, since 2019, the UNFPA-UNICEF funded 'adolescent girls program' has been implemented in various districts and communities in Ghana, indicating that girls within the ages of 10 to 19 years benefited from the program.
The Adolescent girls programme she noted had various thematic areas such as sexual reproductive health and rights of girls, sexual and gender based violence, legal literacy to girls, livelihood empowerment skills.
For the empowerment of these girls to be leaders in their various communities, she explained this was done through the formation of various reproductive health clubs which really served it's purpose, hence reduction in teenage pregnancy and it's related issues.
The project which was implemented in six districts she revealed had about 90 Girls in three clubs adding that, the number have increased to five clubs in the districts.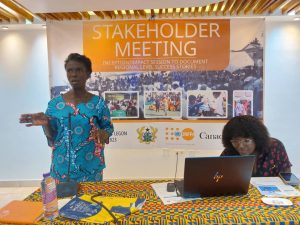 "There are so many girls who have enjoyed and have been part of this adolescent girls programme and looking at the number of people we've reached, we've reached over about 93,149 adolescent girls who are 10 to 19 years" she boasted.
In addition to the young girls, Rev. Aku Xornam Kevi also disclosed that, the programme reached out to women above 20 years, a total of 10,170 as well as reached out to men and boys, a total of 8,189.
Under the sexual reproductive health information and services given to these girls, PAYDP Executive Director happily said that,  a lot of them have been able to make positive decisions for their lives.
"If you listen to the stories of the girls, a lot of these girls who got pregnant and had two children, one child decided that, they will not get pregnant again, some of them went back to school. And a lot of them have started businesses, some of them have become police people, all sorts of things. And we are proud of these girls", she acknowledged.
Touching on the 'Project Inspire' a livelihood empowerment skills, she disclosed that, a lot of these girls have also been able to start businesses that have been registered by the Food and Drugs authority.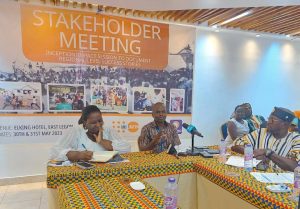 Citing the herbs and spices by the young girls at Kintampo, the beads by the girls at Techiman, the cosmetics by girls at Accra and also the batik T shirts by the girls at Assin-Fosu.
However, she acknowledged the support and backing of men such as the Chief of Kaneshie who have been one of the champions and other traditional leaders, the assembly members, as well as the religious leaders.
"And this numerous support have been useful in the implementation and success of the programme", she noted.
Though the project has ended, she was of the view that, the wonderful success stories would compel stakeholders and other donors to provide funds to expand the project to other districts as well as it's sustainability.
To her, this is important to hold the girls to continue their school, businesses as well as empowering them to say no to teenage pregnancy and child marriage.
Rev. Aku Xornam Kevi, the Executive Director of Purim African Youth Development Platform was also grateful to the communities for owning the project which have yielded numerous results.
As well as their willingness to give out lands to build centres for these girls as a way of strengthening the project and ensuring it's continuation.
Adding, "the girls themselves are selling their products and all that so that gives us the assurance that until the next phase, we know that our girls would be working".
Source: www.thenewindependentonline.com