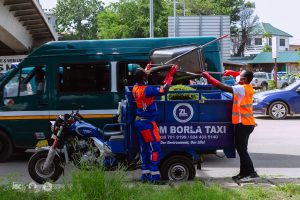 Story by: Sanitation Desk
Zoomlion Ghana Limited has organized a clean-up exercise at Kwame Nkrumah Circle in Accra to mark World Environment Day.
The activities included weeding on the shoulders of the principal streets, manual and mechanical sweeping of the roads, waste collection as well as desilting of choked gutters among others.
The exercise was undertaken and led by senior staff of Zoomlion and in collaboration with the Korle Klottey Municipal Assembly, the security services such as the Ghana Police, and the Armed Forces who offered security support throughout the exercise.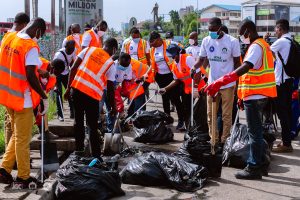 Celebrated globally on June 5 annually, the day is set aside by the United Nations (UN) to inspire worldwide awareness and action to protect the environment.
This year's event is being celebrated under the theme "Beat plastic pollution".
The Managing Director of Zoomlion Private Services, Mr. Edwin Amoako, in an interview reiterated the need for constant education and awareness creation for the general public on the need for a clean environment.
"There are individuals who think that just sweeping and gathering rubbish at their frontage is enough; No it's not and that's why we are here to sensitize them," he noted.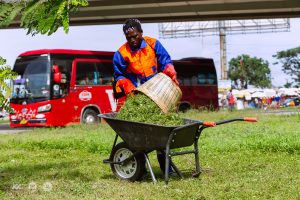 He insisted that constant education and awareness creation will bring about the needed change in protecting and keeping the environment clean.
He advised the public to segregate their refuse to facilitate the process of reuse, recycling, and recovery of waste.
"Segregating waste can improve the recycling process. For example, separating wet waste from dry waste is a simple way to help recycling companies. It will help to recycle non-biodegradable waste and treat biodegradable waste directly," he emphasized.
"It is important not to allow plastics to pollute the environment when indeed plastic has value," he stressed.
The Korle Klortey Environmental Health Officer, Mr. Victor Acquaye, noted that the Assembly will continue to do its bit in ensuring that the environment is always clean.
He also warned that recalcitrant offenders will be arrested and prosecuted.
He mentioned that last year during 'Operation Clean Your Frontage', over 200 offenders were sent to court for various environmental breaches.
He, therefore urged the public to observe the rules and keep the environment clean.
"The cost of maintaining the environment and cleaning the water bodies have become costly: hence people must obey the environmental laws, adhere to keeping the environment clean and help save money for other critical areas," he advised.
Director of Monitoring and Service Quality- Zoomlion, Mr. Ernest Kusi noted that people's attitude to waste management has improved over the years.
"From our monitoring, many people, particularly shop operators, now use bins and have improved upon their waste management," he said.
Source: www.thenewindependentonline.com