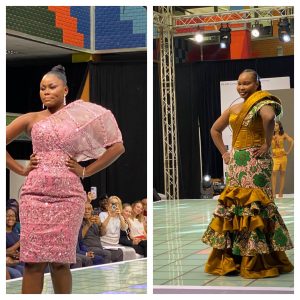 Story by: Ishmael Barfi
Ensuring vulnerable young girls are equipped and empowered to make the right choices for healthy lifestyles while having the economic capacity, The United Nations Population Fund Ghana (UNFPA) and PRADA Group have outdoor eighteen young girls with fashion skills.
The eighteen young girls who showcased their fashion skills were part of the thirty (30) young girls trained under the two organizations' one-year flagship program "Fashion Expression: The Stories She Wears" program.
Speaking at the "Fashion Expression: The Stories She Wears" close-out event, at the World Trade Centre on Friday, 8th September 2023, the UNFPA Country Representative, Dr. Wilfred Ochan explained that, the partnership aimed at leveraging their shared passion for fashion and promoting gender equality and empowerment of women and girls.
And over the past year, he reiterated the vision has been brought to life through the incredible journey of these talented young women from communities in the Volta, Central, Northern, and Greater Accra Regions.
These changemakers who were selected for their determination were equipped with knowledge on issues of gender-based violence, reproductive health, and rights as they went through the intensive training in fashion ddesign and business management.
The day's event he noted was not just to unveil stunning fashion collections but also a new beginning for the young girls.
"Their journey speaks to fashion's power as a platform for change. As we marvel at the power of design and its ability to mold societal norms, we reiterate our commitment: No one should be left behind", he reiterated.
Adding that this project throws light on the value of educating and empowering vulnerable young women, enabling them to be the architects of their destinies and the change-makers of tomorrow and the success of this pilot project has paved the way for expanding the Programme in Ghana and other countries.
He was of the view that the program content and delivery offer policy and practice lessons on the need to integrate SRH and life skills education in other fashion and tailoring training programs.
This he believes will empower the girls in choices for a healthy lifestyle and positive health-seeking behaviour, while having the economic capacity to access as well as use such care, and to no longer be at the mercy of poverty or economically controlling husbands.
"As such they can prevent untimed, unplanned, and unwanted pregnancies; escape the risks of HIV and GBV by avoiding transactional sex; and afford to seek medical and other social services when needed whiles the money they will earn will be better planned for and not wasted away", he noted.
With regards to the fashion industry, Dr. Wilfred Ochan hoped that, the "Fashion Express: "The Stories She Wears" have given the fashion industry and textile manufacturers in Ghana a strong inspiration for Corporate Social Investment, as separate from CSR.
"This is because they can partner with us to invest in training these designers who will in turn be suitable as workers in the design industry – thereby preparing a trained pool of workers to staff their workforce and expand their businesses".
As a call for affirmative action, the UNFPA Ghana Country Representative appealed to leadership of different institutions that make uniforms and other corporate wears for their staff to consider placing orders with such a group of young women to create immediate market for them, as they are prepared to gradually enter the world of competition.
Adding his voice, the Executive Director of International Needs Ghana Mr. Cromwell Awadey expressed his gratitude to UNFPA Ghana and PRADA Group for giving his organisation the opportunity to be part of a life changing project.
"INGH feels honoured to have been selected to implement the pilot  phase of this unique Fashion Training programme that seeks to advance and mentor aspiring fashion professionals. We are grateful to our partners UNFPA and the PRADA Group", he reiterated.
Speaking further, he indicated that,   the maiden cohort of the Fashion Expressions Project have been exposed to a wide range of programmes to mould them into world class fashion entrepreneurs.
Apart from the theory and practice of sewing, the trainees he said have been coached  on entrepreneurial skills, Time management, Customer Service, Book Keeping as well as Financial Management.
Most o the girls were full of vibrancy and joy that, they have acquired skills in their field of interest fashion design and can now be socio-economic independent.
The One year program provided these young girls the opportunity to undergo a six months intensive training in Fashion design and business management with the Centre of Empowerment & Enterprise Development (SEED) run by International Needs at Adidome in the Volta Region and the Ussher Hospital Training Center in the capital city of Greater Accra Region, Ghana.
And the remaining six months was industrial attachment with eight fashion brands namely KUA designs, Poqua Poqu, DASH Fashions, Boy Doe, Sadia Sanusi, Mimmy Yeboah, GG Bespoke and Fakor Mortoo, all situated at Tema, suburb in Accra.
Though these girls will be set up (industrial machine and some financial support) by the UNFPA and PRADA Group, some have been absorbed by some of the brands they did their industrial attachments indicating the worthiness and uniqueness of the project.
The eight fashion brands also received a plaque for their commitment, dedication and contributions towards the success of the pilot project.
Source: www.thenewindpendentonline.com