Ghanàians have been called upon to vote massively against the upcoming referendum of electing Metropolitan, Minicpal and District Chief Executives (MMDCEs) .
The call by the main opposition party, National Democratic Congress (NDC) is to ensure the local government system is not political abused.
The referendum is to pave way for the proposed amendment of Article 55 (3) of the 1992 Constitution which will make local government elections partisan.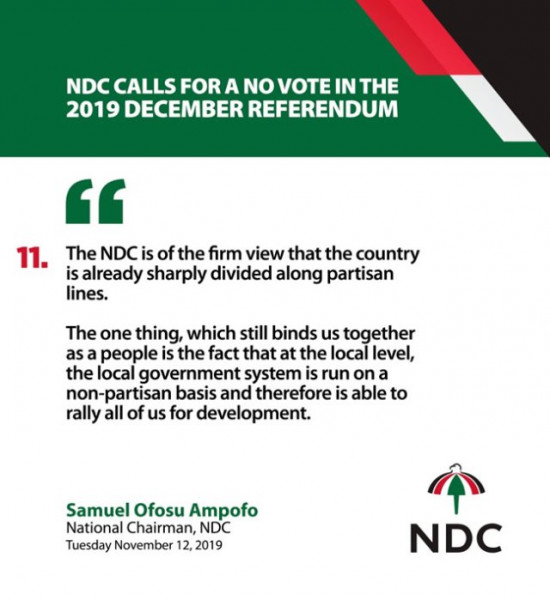 Article 55 (3) states that "subject to the provisions of this article, a political party is free to participate in shaping the political will of the people, to disseminate information on political ideas, social and economic programmes of a national character and sponsor candidates for elections to any public office other than to District Assemblies or lower local government units.'' 

The above article makes the referendum necessary because the Article, Article 55 is an entrenched provision of the Constitution and therefore can only be amended through a referendum.

Therefore, the Electoral Commission of Ghana has scheduled December 17 for Ghanaians to exercise their franchise, voting Yes for the proposed amendment which the NDC is against it.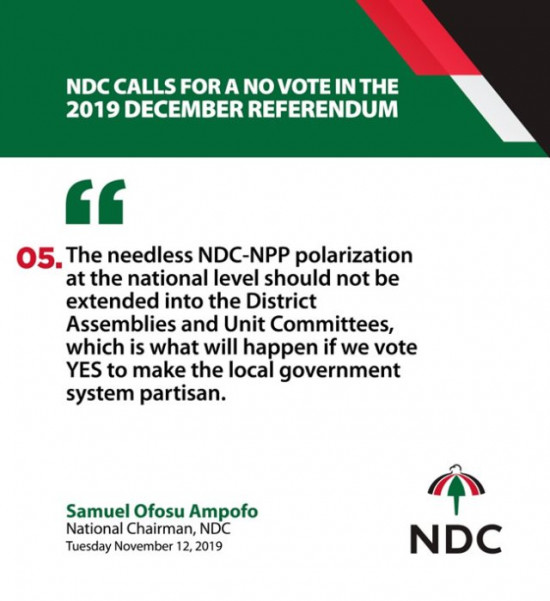 Disclosing the stands of the party at a press conference today, November 12th, the Chairman of the party, Samuel Ofosu Ampofo indicated that, the local government system should remain non-partisan and that individuals should contest the District Assembly and Unit Committee elections on their own merit.

"We, therefore, decided to campaign for a NO vote at the referendum and to urge all Ghanaians to vote NO at the referendum", he stressed.
The consequence of exporting this polarization into the District Assemblies he opined will soon bring about "NDC Communal Labour day" and "NPP Communal Labour day" as well as "NDC market" and "NPP market" in our numerous villages and townships across the country among other things.

To the NDC, amending Article 55 will result in many consequential matters and pitfalls which according to them, government is yet to consider.

Citing Brexit referendum where clarity wasnt there, hence the confusion that arised out of the referendum which Great Britain had to grapple with since the Brexit referendum.
It is for this reason, they believe that the proposed amendment should have been subjected to intense public discussion as it is required for holding referenda on any provision of the Constitution.
Story By: Ishmael Barfi senghana@gmail.com/thenewindependentonline.com