The first cohort of students from Family Health Medical School, Ghana's Premier Private Medical School, who successfully completed their Final Part II examinations, have proceeded on their Elective Rotation, which began on the 25th of November 2019.

Some of these students are placed in University Hospitals in the United States of America, United Kingdom, South Africa, Germany and Nigeria, whilst others are in some Regional and General Hospitals in Ghana.
Many of these students are with the University of Michigan, one of Family Health Medical School collaborating Universities in the United States, whilst the rest are attached to the Volta River Authority Hospital in Akosombo.
These students are expected to compare and share their foreign and local experiences with each other, on completion of their Elective Rotation, which in a way, would promote the transfer of knowledge amongst them.
Furthermore, the students after their elective rotation would be ushered into their final year of their medical training programme.

Meanwhile, the President of the University College, Professor E. Y. Kwawukume hinted that, Management has earmarked some of them for their postgraduate studies at the Family Health University College on completion.

"This, indeed, would be a major feat in the history of the Institution, which progressively, is gaining recognition within the Sub-Sahara African region, for offering comprehensive medical training to students," he stated.
Revealing that, with the vision to be the prime centre for professional medical education and training in the advancement of human health, Family Health University College does not intend to leave any stone unturned in providing the necessary facilities, hence will implement the relevant policies that will aid in giving the best medical education to her students.

Family Health Medical School has come far since its inception in 2015. The Institution has successfully admitted five (5) batches of students for both its Regular and Graduate programmes, and currently, has over two hundred (200) students on enrolment.
The Family Health Medical School provides the best medical education in Ghana and in the Sub-Saharan Africa region at the Bachelor of Medicine and Bachelor of Surgery (MB ChB) degree level.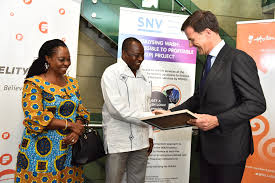 Source: www.thenewindepdendentonline.com/ Ishmael Barfi