Civil and Local Government Staff Association, Ghana (CLOGSAG) has held its 3rd edition of the Annual Nathan Quao awards ceremony under the theme "Neutrality in the Civil and Local Government Service; A Reality or a Mirage" in Accra.

The move is to honour retired civil and local government staff and those in active service for their dedicated and selfless service in the governance of the country to enhance national growth and development.

Dr. Alex Glover Quartey, a former head of the civil service received the ultimate award for exhibiting and spearheading reforms which have impacted positively on the administrative machinery in the civil and public service under his stewardship.

Speaking at the awards ceremony, the Head of the Civil Service, Nana Agyekum Dwamena commended CLOGSAG for honouring civil and local government staff for their commitment to duty which have strengthened the civil service structure and broaden its image.

According to him, the gesture will motivate and urge all to work assiduously in adding values to productivity within their respected organisations to support the socio-economic growth of the country.

He again challenged civil servants to demonstrate a sense of professionalism, integrity, accountability and refrain from politics to enable them have confidence in the public and explained that supreme court have directed civil servants not to engage in active partisan politics as a result of its consequences on governance.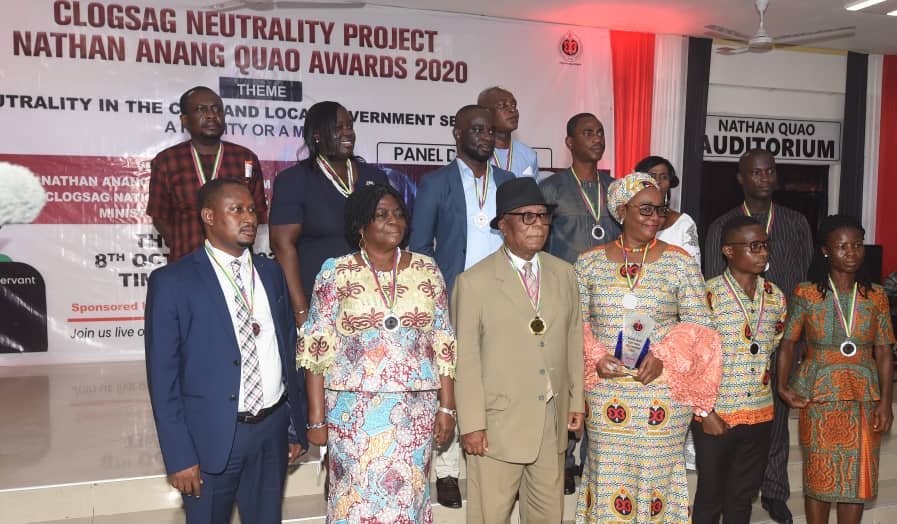 Mr. Nana Agyekum Dwamena said his outfit is of the mandate to institute linkages with other public sector agencies to formulate and implement policies, programmes to support the civil and public service machinery to enhance the governance structure of the country.

"The civil service recognises the changing dynamics in the working environment and are responding to ensure that the service is well positioned to play its critical role in national development", the head of civil service said.

Throwing more light on Mr. Nathan Annang Quao, a distinguished civil servant, Mr. Dwamena described him as a paragon of a civil and public service staff who exhibited the values and ethics of the service and his career path portrays an individual who was recognized for his professionalism, neutrality and expertise by various political administrators.

The President of CLOGSAG, Dr Evans Dzikum commended the awardees for their respective roles they have played in every working endeavour in the civil and local government service.

Citations and plaques were awarded to deserving officers who have distinguished themselves in various categories in their working life.
Source: Ben LARYEA