Story by: Ishmael Barfi
The Inspector-General of Police (IGP) Mr. James Oppong-Boanuh has revealed that, 62,794 security personnel from the various security service will be deployed to the various polling stations across the country for the upcoming general Presidential and Parliamentary Elections on December 7th,2020.
Speaking at a press briefing at the Police Headquarters in Accra today, Wednesday, 4th November, 2020, the IGP who chairs the National Elections Security Taskforce indicated that, these personnel are to man these polling stations to avoid electoral violence, hence ensure calm and peace.
The National Elections Security Taskforce consist of the Bereau of national Investigations (BNI), Ghana Police Service, Ghana Armed Forces, Ghana Immigrations Services, Ghana Prisons, Ghana National Fire Service and Ghana Customs.
With regards to police personnel, Mr. Oppong Boanuh explained that, Police personnel that will be deployed for Elections purposes would have unique uniform and a special armlet to be worn by the deployed officers.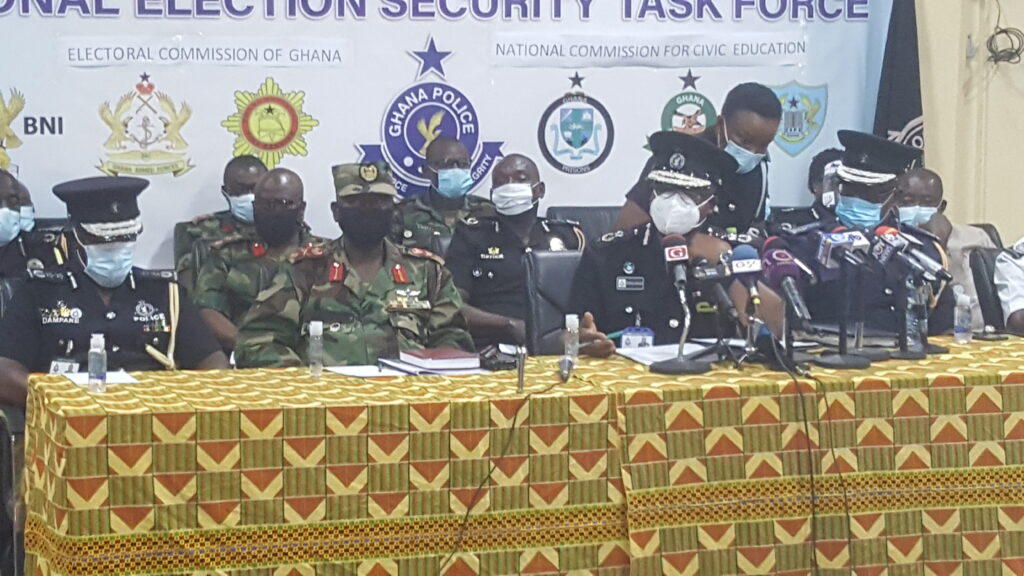 Stressing that, none of the officers would be clad in mufti to work on December 7.

He further emphasized that the police service will not have any ununiformed officer on the election grounds, therefore the general public should be alert and vigilant as they are also stakeholders in the upcoming elections

"Our security personnel would be uniformed and properly identified thus different from our normal operations where we need certain…devices or categories of officers for the purpose of arresting criminals", he noted.
On 7th December, 2020, the IGP emphasized saying "we will not have anybody who is not uniformed deployed by the police to do police work".

Though they are approaching all Polling Stations as potential flashpoints, however he revealed that, a total of 6,178 have been detected ahead of the December 7 polls indicating that, the Service is approaching all Polling
To this effect, measures according to Mr. Boanuh are being put in place to ensure that law and order is maintained for the country to have a peaceful, free and fair election.
"we will adopt a four tier approach of static duties of policing the ballot at all the thirty-three thousand, three hundred and sixty -seven (33, 367) polling stations and two hundred and seventy-five (275) Collation Centres".
Adding, Patrols, rapid response and standby forces will provide swift action when the need arises whiles personnel of the Ghana Armed Forces will join operational units of the Ghana Police Service fully armed to execute patrol, rapid response and standby duties.
Answering a question asked by a journalist with regards electoral violence and court issues, the Inspector-General of Police (IGP) Mr. Oppong-Boanuh pointed out that, the Police Service is in talks with the Attorney-General to institute special courts for electoral offences & violence related issues to speed up those cases.
He therefore assured Ghanaians of the Police Service and other Security Services commitment of ensuring violence-free elections.
Source: www.thenewindependentonline.com