Story by: Sheila Satori Mensa
First Lady of the Republic, Mrs. Rebecca Naa Okaikor Akufo-Addo has appealed electorates in the Okaikwei Central Constituency of the Greater Accra Region to vote massively for President Akufo-Addo and the New Patriotic Party (NPP) based on their achievements in their first term in Office.
The First Lady acknowledged that, the many social intervention policies implemented by the Akufo-Addo-led NPP government did not target members, supporters and sympathizers of any particular party; rather, every Ghanaian who qualifies for any of social intervention policies implemented.
Mrs. Akufo-Addo made these remarks when she interacted with a cross section of electorates in Okaikwei Central as part of her tour of the constituency.
Accompanied by the NPP Member of Parliament (MP) for Okaikwei Central and Deputy Minister of Water Resources and Sanitation, Hon. Patrick Yaw Boamah, Ambassador to India, H.E. Mike Oquaye Jnr, and other senior government and Party officials.
Mrs. Akufo-Addo first paid a courtesy call on the National Chief Imam Sheikh Prof. Osman Nuhu Sharubutu at his residence at Fadama.
She used the her visit to thank the Chief Imam for his constant prayers and support for her husband His Excellency. President Akufo-Addo in his political career and asked for his prayers, they go into the December 7th elections.
Welcoming the First Lady of the Republic and her entourage to his residence, Sheikh Sharubutu thanked the First Lady for her visit and assured her of his office's unflinching support for the NPP government to achieve her objectives.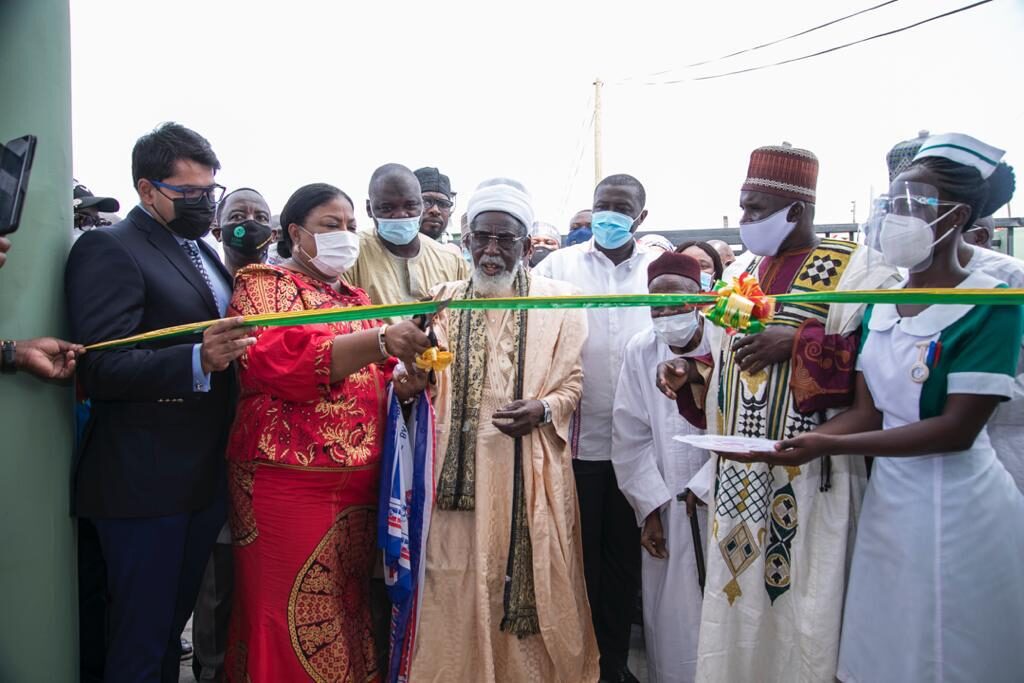 And said unlike some neighbouring countries who are faced with challenges of pockets of civil instability, Ghana is blessed with peace, political stability and religious tolerance; all of which are important pillars for development.
Sheikh Sharubutu therefore advised political parties and the citizenry to eschew violence in the up-coming elections, and inculcate the habit of campaigning and voting without rancour.
The First Lady also commissioned a clinic at Fadama constructed by Hon. Patrick Boamah in honour of the National Chief Imam Sheik Sharubutu and donated medical items including diapers, wheel chairs, crutches, antenatal bags, blankets and medical scrubs to the facility.

Mrs. Akufo-Addo later called on the Abeka Mantse, Nii Boi IV at his palace to customarily seek his permission to interact with his people on election matters.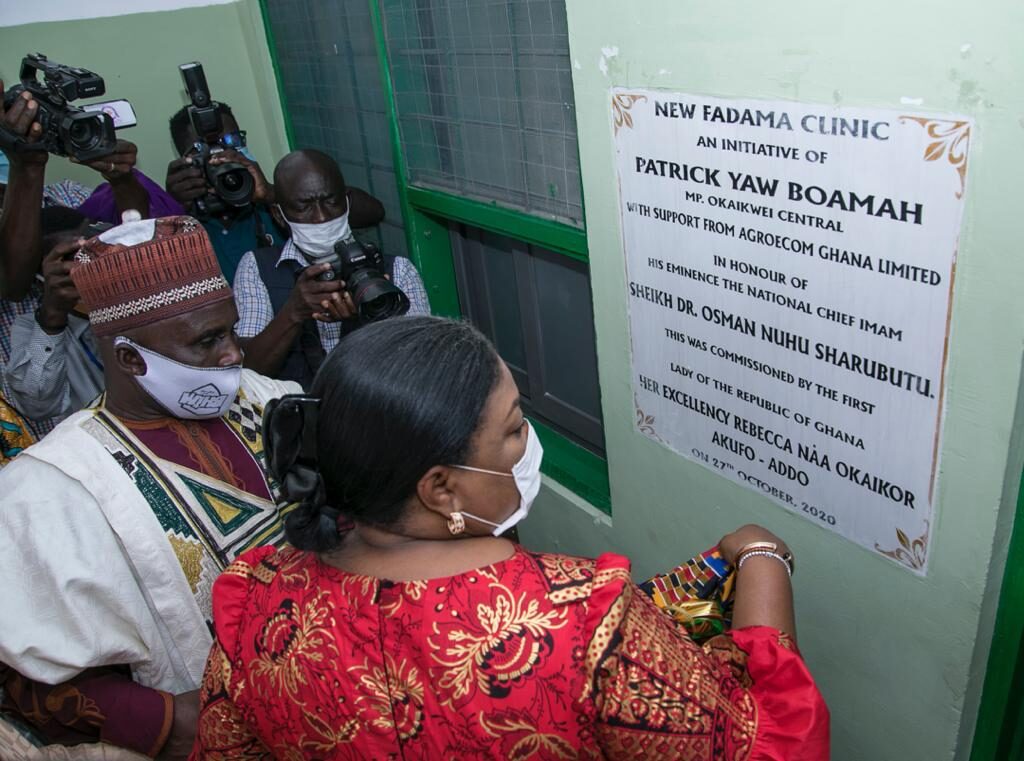 Nii Boi IV welcomed her to his traditional area and commended her for respecting traditional practices and gave his blessings to Mrs. Akufo-Addo to campaign in his locality.
The First Lady next met with Market women, car dealers, traders and the physically challenged, at the premises of the Apenkwa Presbyterian Church.
She told them that the good job delivered by President Akufo-Addo in his first term must elicit confidence in the people to vote another term for him.
She said social intervention policies implemented by the Akufo-Addo administration such as the Free SHS has had positive impact on the citizenry nationwide with beneficiaries cutting across political divides.
Additionally, noted that, disability-friendly policies being implemented by the Akufo-Addo government such as recruitment as toll-booth agents and the increase in the disability fund are all geared at enhancing the wellbeing of every Ghanaian especially the disabled.
It is an indisputable fact that since assuming office in 2020, she explained that, the NPP has worked hard to turn the country's fortunes around and urged the people to vote massively for the NPP to ensure that gains achieved so far are consolidated.

On his part, the Member of Parliament (MP) for Okaikwei Central, Hon. Patrick Boamah pointed out that, President Akufo-Addo is a proven loyal supporter of Okaikwei Central, having served as legal counsel for the Abeka Traditional Council and being instrumental in addressing chieftaincy matters that once threatened their peace.
Adding, President Akufo-Addo since assuming office has executed a number of projects in the constituency including a new astro-turf, mini-stadium, tarring of roads in the constituency, and lighting up the constituency's streets among others.
The MP therefore urged his constituents to vote number one on the ballot paper for both President Akufo-Addo and all NPP Parliamentary candidates for the Party to successfully establish its achievements in government as the new standard in governance.
Source: www.thenewindependentonline.com