Report by: Ben LARYEA
Civil and Local Government Staff Association, Ghana (CLOGSAG) has commissioned its ultramodern Hedge Pensions Trust storey building at a grand ceremony in Accra with the call on the staff to join and contribute to their pension scheme to enable them enjoy a comfortable life after their retirement.
The facility which was built in four months consists of a multipurpose conference room, computers, internet facilities and is disability-friendly. The Hedge Pensions Trust introduced its maiden scheme known as "Pempamsie Fund" to CLOGSAG and it is being regulated by the National Pension Regulatory Authority (NPRA).
Speaking at the event, the Executive Secretary of CLOGSAG, Mr. Isaac Bampoe Addo said the Hedge Pensions Trust scheme is hundred percent (100%) subsidiary owned by CLOGSAG and the first to be owned by a local union with branches in 10 regions across the country.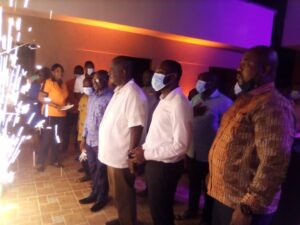 He said the Trust manages the tier 3 and 2 welfare scheme for staff under the operations of the National Pensions Regulatory Authority (NPRA) and indicated that the Trust was the first to pay the pension to its retirees in the year 2020.
The Executive Secretary however urged all civil and local government staff to join the scheme to enable them enjoy the essential benefits of Hedge Pensions Trust, adding that their entitlements will cushion them and enhance their wellbeing.
The Chief Executive Officer (CEO) of the Hedge Pensions Trust, Prof. Emmanuel Asiamah said the trust is a significant milestone in the history of CLOGSAG and have brought to the fore a smile on the face of retirees and thus commended the Board of Trustees for their unflinching works, initiatives particularly the Executive Secretary of CLOGSAG in ensuring that the edifice was duly commissioned.
He however expressed his gratitude to all stakeholders for their inputs and the support of staff in making the facility to materialize.
Adding that, it will impact positively in their respective lives.
For his part, the President of CLOGSAG Dr. Evans Dzikum said the Trust will deliver quality service to clients (retirees) and will receive also an enhanced lump sum of pension during their retirement as well as a healthy lifestyle.
He said that if staff do not prepare adequately towards their pension their way of life becomes very challenging during post retirement and therefore all must come on board to be registered on the scheme.
Source: www.thenewindependentonline.com