Source: www.thenewindependentonline.com
The National Executive Committee of the National Democratic Congress (NDC) has sanctioned the filing of the elections petition as decided by the Flagbearer and Candidate in the just-ended Presidential and Parliamentary elections, John Dramani Mahama at Ghana's Apex Court, Supreme Court.
The petition is to challenge the legitimacy of the President-Elect, Nana Addo Dankwa Akufo-Addo as declared by the Electoral Commission Chairperson, Jean Mensa on the 9th December,2020.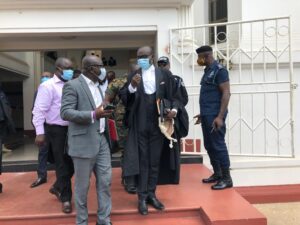 In a meeting today, the National Executive Committee (NEC) deliberated on matters arising out of the recently-conducted general elections on 7th December, 2020.
In an agreement, NEC approves the action of the NDC to contest the results of the rigged elections in the Supreme Court and other appropriate fora.
This was contained in a Press Release issued and signed by the party's General Secretary, Johnson Asiedu-Nketia in Accra today, 29th December,2020.
Meanwhile,"the party will continue all legitimate actions, including protestations, to press home its demands for the government of President Akufo-Addo to enforce the rule of law and protect life and property in Ghana", the statement stressed.
"And, in particular, to take all necessary measures to bring to swift justice those responsible for the murders and injuries and destruction of properties before, during, and in the aftermath of the general elections", it demanded.
Adding "the NDC's commitment to the upholding of the Constitution and respect for human rights shall remain unshaken".
The main opposition party, National Democratic Congress, (NDC) has refuted the the declaration made by the Electoral Commission Chairperson, Jean Mensa on the 9th of December,2020 regarding to the Presidential and Parliamentary Elections 2020.
Therefore hinted of challenging the results at the Apex Court of Ghana, Supreme Court to ascertain the winner of the just-ended elections.
30th December,2020 is the set date the National Democratic Congress (NDC) has decided to file its petition at the Supreme Court of Ghana.
This the party believes would aid in the fight for justice and rule of law in the country, Ghana.
Source: www.thenewindependentonline.com