Report by: Ben LARYEA
Kosmos Energy, a leading oil producing and exploration company has donated assorted items worth $50,000 to vulnerable groups at a ceremony in Accra.
these vulnerable gruops consist of the James Camp Prisons, Senior Correctional Center (SCC) a Juvenile Unit and the Light Outreach Orphanage.
The gesture forms part of Kosmos Energy Covid-19 project Christened, Supporting and Protecting the Vulnerable in Time of Crisis.
The items includes bags of maize, sugar, rice, cassava flour, onions, gallons of oil, boxes of indomine, noodles, crates of eggs and tomato paste.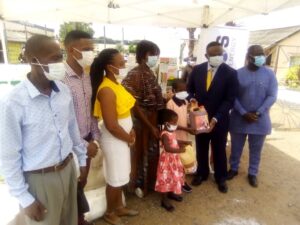 Presenting the items, the Senior Vice President and Head of Business Unit of Kosmos Energy, Mr. Joe Mensah said his outfit in partnership with livelihood Empowerment Against Poverty (LEAP) under the Gender Ministry have collaborated and supported scores of vulnerable families and the under privilege in the society as a result of the negative impact of the novel Corona Virus pandemic.
He said it has always be the passion of Kosmos Energy to come to the aid of the vulnerable hence the company have invested a whopping sum of $100,000 as the second phase of their drive to fight the pandemic.
"During the outbreak of Ebola in 2014, the company constructed treatment centers at some parts of the country as part of the effort to support victims and curb any outbreak", he said,
Adding that the company have further supported the vulnerable in alternative livelihood by training inmates in agriculture to enable them acquire skills in agribusiness, hence productive and be self independent.
As well as being entrepreneurs to also employ the youth in their respective venture after their reintegration into society.
For his part, the Greater Accra Regional Commander of the Ghana Prisons Service, Deputy Superintendent of Prisons (DSP) Samuel Agyei Arthur expressed his profound gratitude to Kosmos Energy for their support saying the donation was timing and therefore urged other corporate institutions to emulate the company.
In a related development, the Kosmos Energy used the occasion to perform sod-cutting to launch an agriculture project under the auspices of the Kosmos Innovation Centre (KIC) to train the juveniles in snail, mushroom and vegetable farming.
Source: www.thenewindependentonline.com