Source: www.thenewindependentonline.com
Sad information reaching the political desk of www.thenewindependentonline.com indicates that, the styled woman-rambo Member of Parliament (MP) for Awutu Senya East Constituency, Hawa Koomson has commanded her 'machomen' to attack the National Democratic Congress (NDC) Constituency Scretary today, 1st Janauary,2020.
According to information picked up, the MP, Hawa Koomson was present during the physical attack on the National Democratic Congress Secretary of the Constituency.
Narating the unfortunate incident on social media, the Eyewitness explained; "Our constituency secretary for Awutu senya East Amadu Tuareg has just been attacked by a thug led by Hawa koomson in kasoa… he is in a critical condition now…..she personally led the attack..I was a witness to the act and we can't sit down for this to continue…"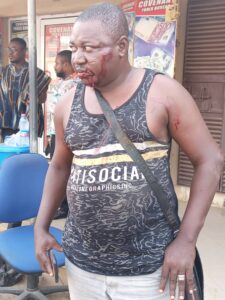 Narating further, he indicated that, the victim and some executives of the party where sitted infront of the victim's shop having a tet chat.
All of a sudden,  the woman-rambo Member of Parliament, Hawa Koomson arrived with 2 land cruisers full of thugs, walked towards them which she Hawa spoke to the thugs in Hausa and commanded the boys to attack.
Currently, the victim, Tuarik Amadu, is in critical condition as he been hospitalized.
This is not the first time the Awutu Senya East Member of Parliament is displaying such a 'rambo' style of dealing with her opponents, the National Democratic Congress (NDC).
It would be recalled during the new voters' registration exercise, the self styled rambo MP was seen displaying at some registration centers and shooting into the air, distracting the exercise and creating fear and panic among the residents of the constituency.
Interestingly, Constituents are worried that, the Member of Parliament was left unpunished and today, the 1st of January,2021, she displays again by ordering the beating of the National Democratic Congress Constituency Secretary, Tuarik Amadu.
Therefore they are calling on the Ghana Police Service and government to call the self styled rambo MP to order before her actions in the Constituency gets out of hands.
And currently tension is arising among the members of the main opposition party, National Democratic Congress (NDC).
Source: www.thenewindependentonline.com