'Jean Mensa Used Obasanjo's Tactics To Declear Nana Winner'-APC  Nat. Comm. Officer Claims
Source: www.thenewindependentonline.com
The National Communications Officer of All People's Congress (APC), Mr Francis Ansah Tawiah claims "on loan" President Nana Akufo Addo did not win the 2020 Presidential Elections as decleared by Elctoral Commission Chair, Jean Mensa.
According to him,  the EC Chair, Jean Mensa rather used Olusegun Obasanjo's incumbency tactics to decclear the New Patriotic Party (NPP) Candidate,  Nana Addo Dankwa Akufo-Addo as the winner of the December 7th Presidential elections.
Briefing the press today, he said,"None of the 12 Presidential Candidates had 50% in the December 7, 2020 Presidential Election, hence was not the winner".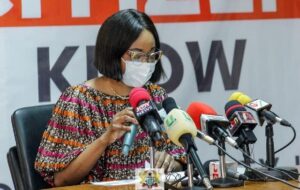 But "Because of the close alliance between the President and Jean Mensa, she declared Akufo Addo the winner knowing very well that wasn't true per the results coming in from all 16 regions of Ghana", he alleged.
Explaining further,  he noted, "Trust me, Jean Mensah will be disgraced once the NDC calls for an in camera collation of the Pink sheets at the supreme Court."
All People's Congress (APC) National Communications Officer, Mr. Ansah Tawiah indicated that the "on loan" President Nana Akufo AddoNana Akufo Addo is much aware he didn't win the elections, adding, that is why he Nana Addo Dankwa Akufo-Addo and his suppporters could not jubilate after the declaratiom by EC Chair, Jean Mensah.
The Supreme Court today adjourned the petition hearing to Tuesday, January 19, 2021.
Source: www.thenewindependentonline.com