Accra: Ninety-Seven Persons Arrested for not Wearing Nose Mask
Story by: Sheila Satori Mensa
Ninety – seven persons comprising of Sixty males and thirty – seven females have been arrested by the Accra Regional Police Command for allegedly failing to wear a nose mask in contravention of the Executive Instrument E.I164.
They were arrested in the central business district of Accra today in a special operation conducted by the operational team from the Accra Regional Police Command.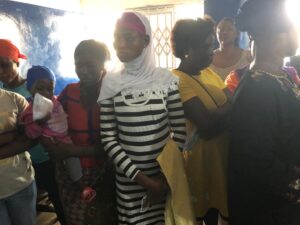 The law
President Nana Addo Dankwa Akufo-Addo signed the Executive Instrument (E.I164) which criminalises the failure to wear a nose mask in public.
The law states that, those who are found guilty will be fined a minimum of GH¢1,200 or a maximum of GH¢6,000 or will be sentenced to between four and 10 years in prison.
"Operation wear your mask"
Briefing the media, the Public Relations Officer (PRO) of the Accra Regional Police Command, Deputy Superintendent of Police (DSP) Mrs Effia Tenge, said the, 'Operation wear your mask', was carried out in a four-hour operation around Tudu, CMB, Farisco, Railways and its environs today Tuesday January 19, 2020.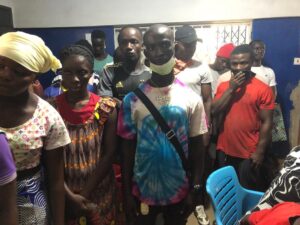 She said those arrested were either have a face mask yet they won't put it on and it either in their bags and pockets hence those who had non were made to buy one.
She added that, those arrested have been sent to the Accra Regional Police Command as they take a decision on them.
DSP Tenge explained that the operation was targeted at enforcing the directive on wearing of face masks in the region as part of measures to check the spread of the coronavirus.
"In line with enforcing the law, policemen have been deployed at various points in the region to ensure that all persons moving about have a nose mask on or be sanctioned," she said.
Background
President Nana Addo Dankwa Akufo-Addo in his 22nd address to the nation on the coronavirus crisis,called on the public to make sure they had a nose mask or face covering on when leaving their homes.
He said not having one's nose and mouth covered in public was now an offence.
"The police have been instructed to enforce this directive, which is the subject of an Executive Instrument," he said.
In the meantime, pursuant to sections 169 and 170 of the Public Health Act, 2012 (Act851), the Ministry of Health on April 26, last year, directed the mandatory wearing of nose masks to prevent the spread of COVID-19 in the country.
Source: www.thenewindependentonline.com