Ghana Revenue Authority Sets A Revenue Target of GH¢60 Billion For The Year 2021
Report by: Ben LARYEA.
The Ghana Revenue Authority (GRA) says it has set a revenue target of provisional tax revenue of GH¢60 billion for the year 2021 constituting 32.3% increase over the 2020 actual collection, adding that with pragmatic and innovative measures put in place the said target can be achieved.
"The Authority was challenged to collect a revised tax revenue target of GH¢42,769.50 in December, 2020 and collected GH¢45,338.69 million exceeding a budget of GH¢ 2,569.19 million", it said and explained further that the performance represents a nominal growth rate of 3.3% over the same period in the year 2019 as domestic revenue grew by a normal rate of 2.8% while customs collection grew also by 4.5% in the year 2020.
Rev. Ammishaddai Owusu-Amoah
The Ag. Commissioner-General of GRA, Rev. Ammishaddai Owusu-Amoah said this in an encounter with the media in Accra and indicated that the Authority made giant strides in the wake of Covid-19 pandemic and its negative impact on businesses in the country.
Giving a breakdown of the target revenue, he said the Authority set a target of GH¢22,153.64 billion and collected GH¢22.212.66 on direct taxes as GH¢10,583.37 was realized from a target of GH¢9,698.66 on indirect taxes while GH¢12.583.37 was collected as Customs at a target of GH¢ 10.917.20
The Ag. Commissioner-General said the successful performance of the Authority in 2020 was as a result of increased and targeted compliance exercises by blocking loopholes and the set-up of the Tax Audit and Quality Assurance Department as well as the introducing the Integrated Tax Application and Preparation System (ITaPS) and Ghana.Gov for online filling of Personal Income Tax for employees.
In addition, the rollout of the Integrated Custom Management System (ICUMS) in the year 2020 also scaled up in revenue collection of Customs and the increase operations in the mining, financial and telecommunication sectors with it's corresponding increase in tax revenue and the enforcement exercises on defaulting tax payers leading to the collection of taxes owed.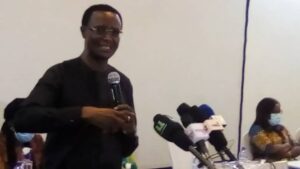 On Corporate Social Responsibility (CSR), he said the Authority in collaboration with GIZ, a German firm provided Covid-19 testing facilities to needed institutions and two mobile vans for Kumasi Centre for Collaborative Research (KCCR) at Obuasi in the wake of the pandemic and supported the Medical Reception Centre in Michel Camp with PPE's and however urged the citizenry to observe the necessary Covid-19 protocols as a measure to curb the spread of the disease.
Source: www.thenewindependentonline.com